Assemblymember Rob Bonta Announces Neighborhood Office Hours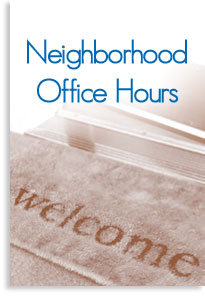 Assemblymember Rob Bonta is committed to providing the highest quality constituent service. In an effort to provide constituents throughout the 18th Assembly District with better access to Assembly services, the Assemblymember is launching Neighborhood Office Hours.
During Neighborhood Office Hours, constituents will have the opportunity to meet with Assemblymember Bonta's staff to access legislative information or to receive assistance with a state-related matter. Neighborhood Office Hours start on March 5*.
Click here for a location near you
Additionally, constituents are always welcome to contact Assemblymember Bonta's district office located at 1515 Clay Street, Suite 2204 in Oakland. For more information, please call (510) 286-1670.
*Neighborhood Office Hours in the Fruitvale District will start on April 3. El horario de nuestra oficina en la vecindad de Fruitvale comienza el 3 de abril.