Oakland Community Coffee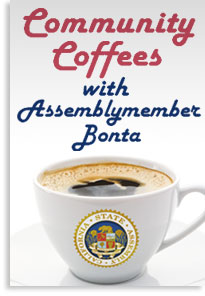 Do you have a legislative idea, a question, or a problem with a state agency that you need help with? If so, I want to hear from you!
Let's meet for coffee in Oakland on August 20th so you can share your thoughts and ideas.
Saturday, August 20
10a.m. to Noon
Hive, the Place to Bee
2139 MacArthur Blvd
Oakland, CA 94602
Meetings are by appointment only --- For more information or to schedule an appointment, please contact (510) 286-1670.