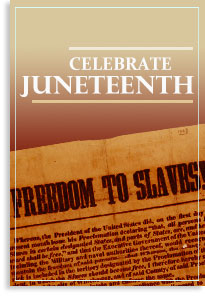 June 19, 2016 is the 151st anniversary of Juneteenth, which celebrates the freedom of over 250,000 American slaves at the close of the Civil War in 1865.
Please join me in celebrating Juneteenth at the following events in the 18th Assembly District:
The 9th Annual Juneteenth Celebration
Saturday, June 25 at 9:25 p.m.
3233 Market Street (between Market and San Pablo)
This event will be filled with live music, free health screens, historical education and family fun. This year's theme is "Honoring and Celebrating the Brilliant Minds of the Past, Present and Future."
For the past eight years, this event has brought together people of all ethnicities and cultures of the Greater Bay Area to celebrate the end of slavery in the United States.
Directions [2]
View Flyer [3]
Fallen Heroes Rising, a Juneteenth Celebration through Dance
All stars of the dance world come together to celebrate dance, music & American history. This event honors the memory of African American artists such as Whitney Houston, Phife Dawg, Natalie Cole, Michael Jackson, Maya Angelou, Prince and many others.
Saturday, June 25
2 - 8 p.m.
Impact Hub Oakland
2323 Broadway Avenue
Directions [4]
For more information please call (925) 680-4400.