Dear Friends,
Are you a student who is passionate about state or local government?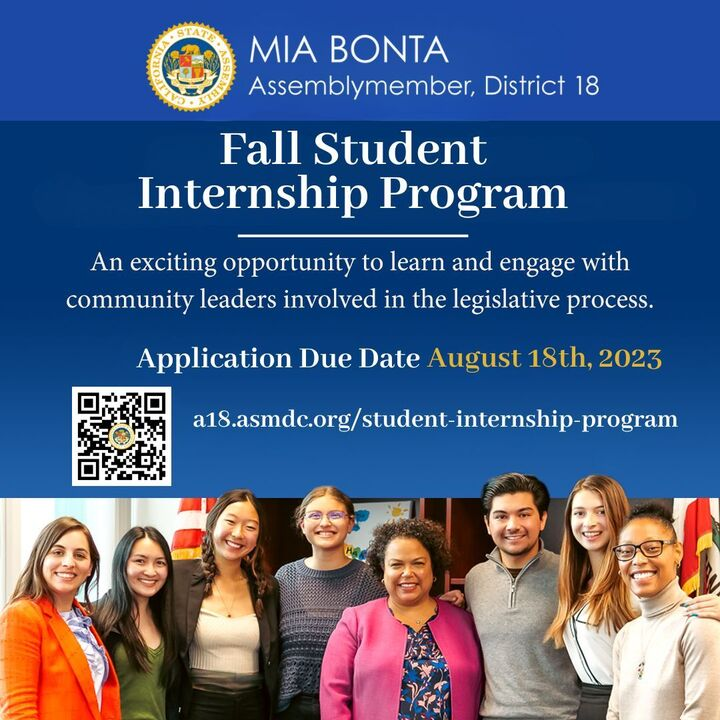 If so, I encourage you to apply for my Fall 2023 Student Internship Program. This is a one-of-a-kind opportunity to experience the inside world of the California State Assembly while helping serve the local community in the district office.
Working as a hybrid intern at home and from my District Office in Oakland, you will play a key role in representing the 18th Assembly District, which includes Oakland, Emeryville, and Alameda. This is a multi-faceted experience, combining detailed legislative analysis with thoughtfully designed communication and social media know-how. Interns will work directly with constituents, helping community members navigate state government services, and coordinating with public service groups at events around the District.
Serving as a student intern is a special opportunity to work and learn side-by-side with state lawmakers and staff policy experts. As a representative of the office, you can meet and work with local elected officials, community groups, business leaders, and non-profits from across the 18th District, serving as the eyes and ears of the office to help us stay up to date on public issues and directly serve constituents where they live.
Do you have a great idea for the next California law? Interns will have the opportunity to propose new legislation, work with staff to research policy ideas, interview policy experts and interest groups, and present their findings directly to me, Assemblymember Bonta.
My office is looking for engaged students in college or recent graduates, who are looking to spend at least 10 hours a week learning about California policy and representing the AD-18 community. The internship begins September 5, 2023, and lasts until December 15, 2023. The last day to apply is August 18, so please submit your application soon to begin your hands-on education on California public policy and local public service.
To read more about the full internship opportunity click here.
Yours in Service,

Mia Bonta
Assemblymember, 18th District
In this newsletter, you'll find the following information:
Assemblymember Mia Bonta & staff are committed to keeping AD-18 residents fully engaged and informed.
Please send this newsletter to a friend and subscribe!
Stay connected with our office, follow us on social media:
Twitter

 Instagram

 and Facebook

 or Email Me, (510)286-1670
---
Section 1: Student Intern Experiences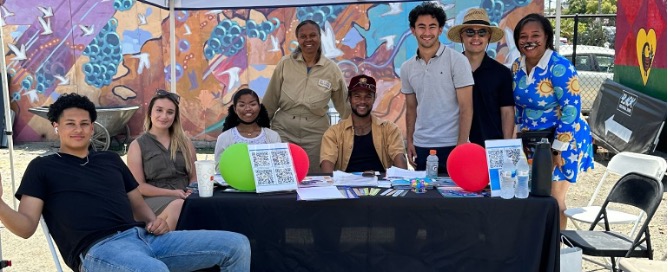 *Pictured Above: Some of Assemblymember Bonta's Summer 2023 Interns alongside staff and community organizers tabling at the Living Science Day at Liberation Park in East Oakland.
Many current Assemblymembers and government staffers got their start as district interns around the state. We asked our current and former interns to share their experiences so you can see whether an internship at Assemblymember Bonta's office is right for you.
Trinity - Summer 2023 Intern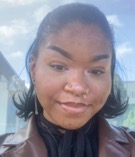 I had the amazing opportunity to be a part of the Summer Intern Cohort in the Office of Assemblymember Bonta! Working in the Office this summer showed me the important work that goes into creating meaningful legislation and what it takes to effectively fulfill the responsibilities of an elected official. One of the things I most valued was the work I did to help uplift AD-18.
Another highlight was the policy proposal project I got to do! I was given the opportunity to research and develop a policy proposal on a topic important to me. I have always wanted to experience the process and see how legislators go about creating bills. I came into the internship program wanting to learn about our political systems at the state level and utilize my knowledge to give back and I feel that goal was successfully met during my internship. I am deeply honored to have worked with a group of kind and outstanding individuals who have taught me so much and given me new relationships and an experience that I will always be grateful for.
Trinity is a senior at UCLA studying political science and will be interning this fall with State Assemblymember, Majority Leader Isaac Bryan.

Sam - Spring 2023 Intern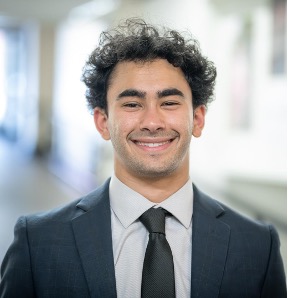 I served as a remote intern for Assemblymember Bonta's Office during the Spring of 2023 while a senior at UC Davis. I was raised in Alameda and got my start in public service in the Fruitvale District, so representing my local community was an incredible opportunity to give back and help improve my hometown.
I had attended policy meetings before in other roles, but monitoring new housing development in my own community and sitting across from policy experts to discuss issues around the district was particularly meaningful for me. I jumped at the opportunity to experience the behind-the-scenes work of public service, researching venues in preparation for district events and studying the organizations and civic leaders working every day to better our neighborhoods.
After graduating, I was honored to join the team in person as a part-time Field Representative, tracking public issues, working with constituents, and meeting civic leaders in Oakland's Council Districts 1 and 2. My experience as an intern provided me with the chance to learn the nuances of the California government and opened doors to positions both within the government and with external companies and organizations.
Arisbeth - Summer 2023 Intern
I had the privilege of interning with Assemblymember Mia Bonta's office during the Summer of 2023. As the youngest of my cohort with no prior experience, it was initially quite intimidating. However, it's an experience I have come to cherish. The people I met, what I learned, and the skills I acquired are more than I could ever ask for from a summer internship. In a matter of 2 months, I was able to participate and engage in community events, write my own legislative proposal, research different bills, and assist in other tasks such as creating social media posts, all with the support and guidance of Asm. Bonta's amazing district staff.
 I have wanted to learn more about being a public servant since I was young and although I am only a junior in high school and have plenty of time before I pursue my goals, this opportunity was a dream come true. I was not going to turn in my application out of fear and because I no longer live in the district [due to redistricting] nor did I think I had anything to offer considering my age but applying was the best decision I made this year. I encourage anyone interested to do the same. You will be challenged! I am so grateful for this opportunity and hope to continue working for state offices in the near future.