June is Pride Month, a time of month-long activities, teach-ins, celebrations, and organizing to highlight our LGBTQ+ community members, including those who are no longer with us, in recognizing the long-fought battle for civil and human rights. This year alone, over 400 Anti-Trans, Anti-LGBTQ+, Anti-Queer, and Anti-Drag legislation has been introduced – and some even signed into state law – in many state legislatures that attacks and diminishes the lives and identities of LGBTQ+ folks. Sadly, this week we witnessed two instances of hateful actions towards the LGBTQ+ community, a humble reminder that there is still work to be done in our beautifully diverse state.
As your Assemblymember it is my honor to continue to uplift LGBTQ+ leaders, community members, friends, and families in speaking out against state legislators that seek to erase and pass legislative violence against LGBTQIA+ members.
As festivities for Pride Month continue, let us celebrate in love, unity, and affirmation with one another, and celebrate as an act of resistance to honor the first Pride marches. Let's remember and pay tribute to the names of Marsha P. Johnson, Sylvia Rivera, Stormé DeLarverie, Larry Kramer, Audre Lorde, Billie Jean King, Harvey Milk, and so many others who lead with courage against institutional injustice.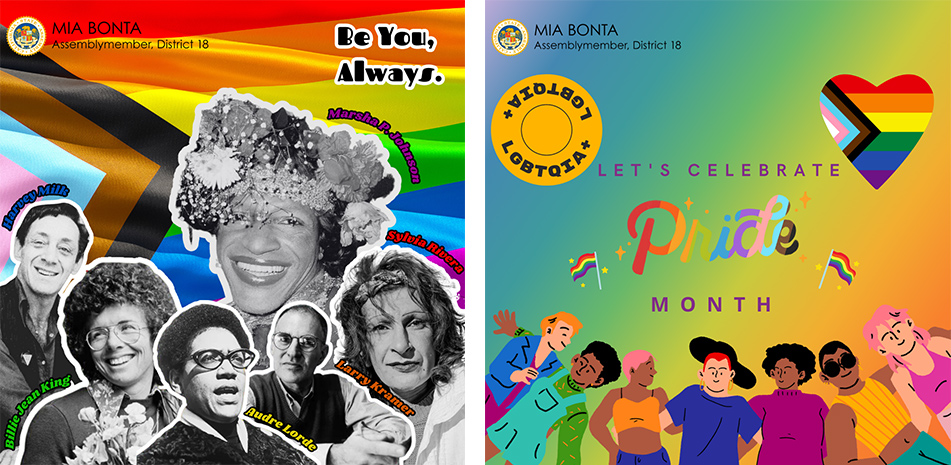 I'm proud to live and be a part of a District that seeks to uplift and expand protections for our LGBTQ+ members in pursuing more inclusive communities. I hope each of you celebrate in safety, and additionally take advantage of the services and organizations offered in today's "Celebrating Pride Month, Commemorating Resistance" newsletter.
Yours in Service,

Mia Bonta
Assemblymember, 18th District
In this newsletter, you'll find the following information:
Assemblymember Mia Bonta & staff are committed to keeping AD-18 residents fully engaged and informed.
Please send this newsletter to a friend and subscribe!
Stay connected with our office, follow us on social media:
Twitter

Instagram

and Facebook

or Email Me, (510)286-1670
---
Celebrating & Honoring the Legacy of Pride in Assembly District 18
Emeryville Drag Bingo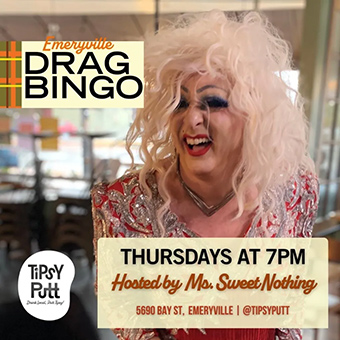 Come enjoy Drag Bingo!
Thursdays
7 p.m.
Tipsy Putt
5690 Bay Street
Emeryville CA
Oakland Black Pride Festival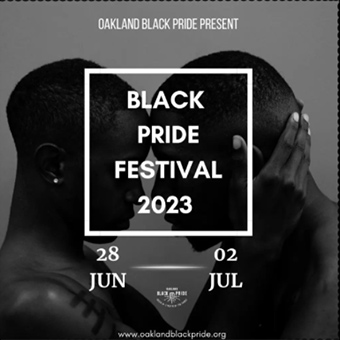 This year's theme, "Celebrate the Magic of We!" Oakland Black Pride's mission is to cultivate, empower, and emphasize programming and events for Black LGBTQ+ communities.
June 28 to July 2
Visit Oakland Black Pride Festival website and register for their upcoming events.
Oakland LGBTQ Community Center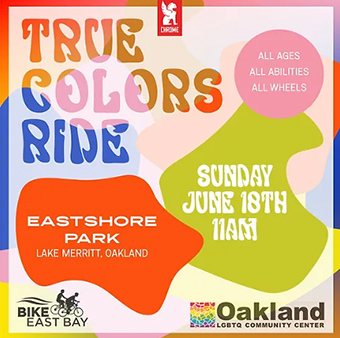 Oakland's first LGBTQ community service non-profit provides support services for youth, young adults, medical and sexual health services, and other referrals.
Join the LGBT Community Center, in partnership with Bike East Bay for their True Color Ride!
Sunday, June 18
11 a.m.
EastShore Park
(Grand Ave & MacArthur Blvd)
Learn more about the Oakland LGBTQ Center.
Qulture Collective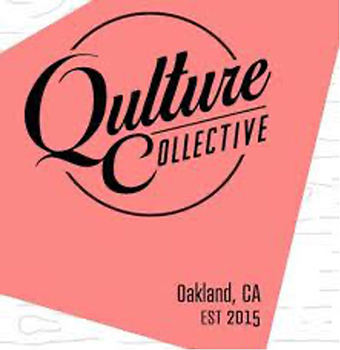 Located in Downtown Oakland, Qulture Collective hosts queer and allied communities together through vibrant events and programs. By hosting many programs, Qulture Collective fosters a supportive environment for employment, jobs, and celebration of culture for all LGBTQIA+ folks.
To learn more, visit @Qulturecollective.
---
AD-18 Community Resources
National Summer Lunch Program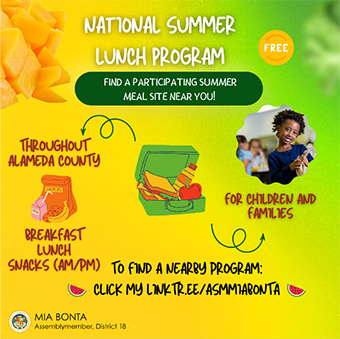 Every year, the California Department of Education and U.S. Department of Agriculture works together with local school districts and community-based organizations to promote and ensure children and families during the summer receive lunch, breakfast, and snacks at no cost.
To find your nearest participating location: Download the CA Meals for Kids Mobile application or visit USDA Summer Meals for Kids.
Roots Community Health Clinic; Roots Pop-Up Market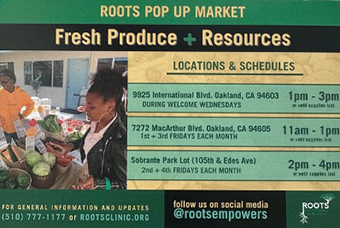 On a first-come first-serve basis for fresh produce, fruits, and resources.
The East Oakland Collective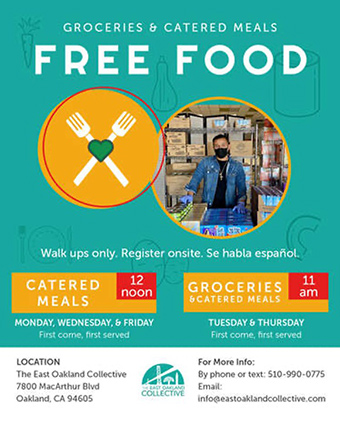 First-Come, First-Serve basis for free produce, meals, and groceries.
Groceries: Tuesday & Thursday starting at 11 a.m.
Catered Meals: Monday, Wednesday, and Friday starting at 12 p.m.
Location: 7800 MacArthur Blvd., Oakland CA 94605
California Kids Investment and Development Savings Program (CalKIDS)
CalKIDS is a new state program that provides financial support for California babies born on/after July 1st, 2022 with up to $100 in college savings with a CalKIDS and ScholarShare 529 savings account.
Beginning the 2021 academic year, low-income California students enrolled grades 1st - 12th can receive up to $1,500 in money for college attendance to cover tuition and fees and school supplies.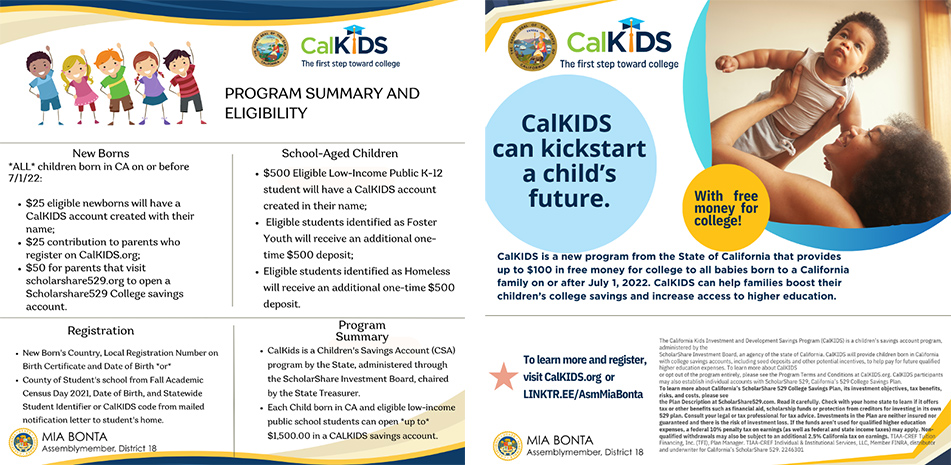 Learn more about eligibility, register at CalKIDS.org and ScholarShare529.com.
Alameda Grand Street Safety Improvements: Virtual Community Workshop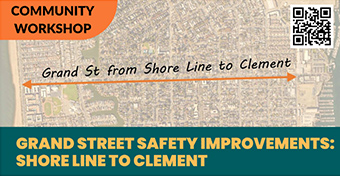 Learn more about Alameda's plans to improve safety along Grand Street with this online workshop. Review and discuss new design options for the corridor stretching from Shoreline Dr. to Clement Ave. Staff will present proposals at 6 p.m. followed by community questions and comments.
Tuesday, June 13
6 - 8 p.m.
Learn more about the project at Alameda Grand Street, or join the zoom meeting.
Rising Sun Center for Opportunity

Since 2000, Climate Careers has operated as a highly innovative youth empowerment program, addressing climate change by employing youth to provide energy efficiency services to nearly 60,000 Northern California households.
Climate Careers and Opportunity Build give youth and adults the training and experience they need to access sustainable career pathways and maximize their potential.
For youth, 15-22 years old, interested in learning more apply here.
Learn more about Rising Sun.
---
Community Engagement Opportunities
Alameda: 55th Annual Sandcastle and Sculpture Contest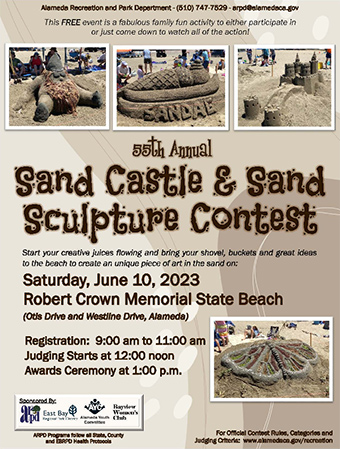 Alameda's iconic 55th Annual Sandcastle and Sculpture Contest at Crown Beach is on Saturday, June 10!
Enjoy a free event for all ages and building levels, featuring prizes for winning teams and appreciate their final sand art.
Registration begins at 9 a.m. with judging starting at 12 p.m. Special thanks and support from the Bayview Women's Club, East Bay Regional Park District, Alameda Youth Committee and the Alameda Recreation and Park Department.
Saturday, June 10
9 a.m. to 1 p.m.
Robert Crown Memorial State Beach
Otis Drive to Westline Drive
Alameda, CA 94501
For more information or to participate in the contest call (510) 747-7529 or visit the event's website.
Alameda: Community Action for a Sustainable Alameda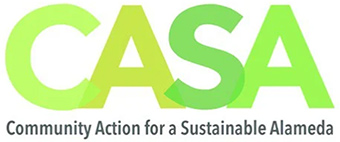 Join CASA for their monthly beach cleanup at Waterfront Park at the Sea Plane Lagoon to keep our beach clean!
Saturday, June 17
10 a.m. to 12 p.m.
Waterfront Park at the Sea Plane Lagoon
2151 Ferry Point
Alameda, CA 94501
For more information visit CASA's website.
Emeryville: Make a Difference in Emeryville and Apply to be Part of a City Committee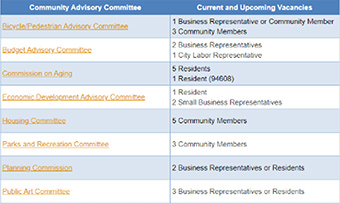 Are you interested in advocating for the City of Emeryville's policies and projects? Are you passionate about civic engagement? Then this opportunity could be a good fit for you!
The City of Emeryville is actively accepting community members to serve in various Community Advisory Committees currently, and soon to be.
For more information contact the Deputy City Clerk.
Applications due: Monday, June 26 at 5 p.m. Apply online.
View current/upcoming vacancies.
Emeryville: Emeryville Police Department Participating in Special Olympics Torch Run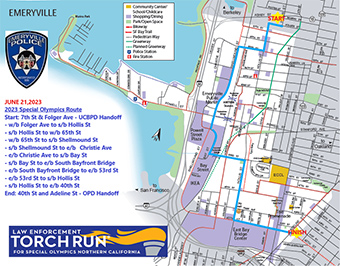 On Wednesday, June 21, Emeryville Police Department officers will participate in a 2.5 mile run to raise awareness for our Special Olympians in partnership with the Special Olympics Torch Run.
Come out, make some noise, and show your support while our officers pass the torch to Oakland Police Department!
Wednesday, June 21
1:45 p.m.
(Torch Hand Off from Berkeley Police Department)
Start: 7th St. & Folger Ave.
End: 40th St. and Adeline St.
(Torch Hand Off to OPD)
For more information, visit the City of Emeryville's website.
Oakland: Making Oakland Cleaner, Safer, and Happier; Call 311!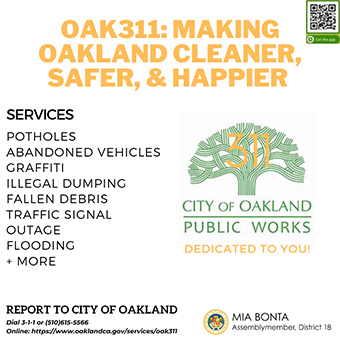 After being hit by a catastrophic data breach between February 2023 and April 2023, the City of Oakland needs you to re-submit your claims with Oak311!
Oak311 is a comprehensive online and mobile service portal that allows you to easily report non-emergency request services to Public Works. Request maintenance and city services to address potholes, abandoned vehicles, and park maintenance.
With Oak311, you can quickly report a problem, track the status of your request, and receive updates on service delivery.
To report: call 3-1-1 or (510) 615-5566, download the mobile app, or visit Oak311.