Dear Friends,
It has been an honor to serve as your elected representative in Sacramento during my second term in the California State Legislature. On June 15th the Assembly and Senate sent the Governor a balanced budget in time to meet our constitutional obligation. On June 27th, having reached an agreement on several outstanding matters with the Governor, the Legislature sent the Governor additional follow-up budget items. I would like to highlight some of the budget wins that I fought hard for on behalf of our local cities and communities in this three-party agreement.
It was pivotal for me to secure funding that was requested by so many impactful programs and organizations in our AD-18 community. Despite a roughly $30 billion dollar deficit in the state budget, I managed to secure upwards of $11 million dollars for the benefit of Alameda, Oakland, and Emeryville communities.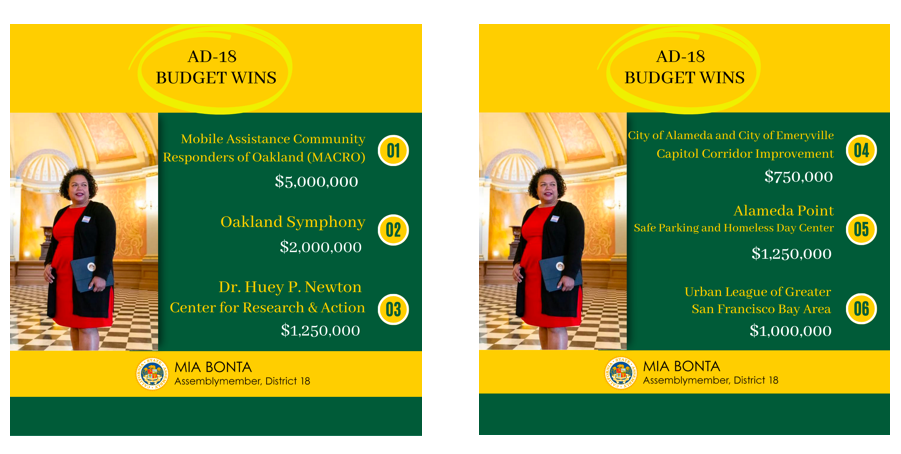 In addition to the District victories, I am proud to share with you additional victories for the state as a whole. This includes the following:
$10 million dollars for the Diversity Education Leaders Pipeline Initiative that create more opportunities to increase diversity and cultivate culturally responsive TK-12 school administrators;
$21 million dollars for community-based organizations to provide prison programming;
$40 million for the communities of Planada and Pajaro to support recovery efforts from this year's flooding regardless of documentation and citizenship status;
Preserving $40 million for the Public Defenders Pilot Program;
Preserving $20 million for the next two years to support the Court Appointed Special Advocates;
$10 million for Family Justice Centers;
$7 million over the next three years to support victims of human trafficking.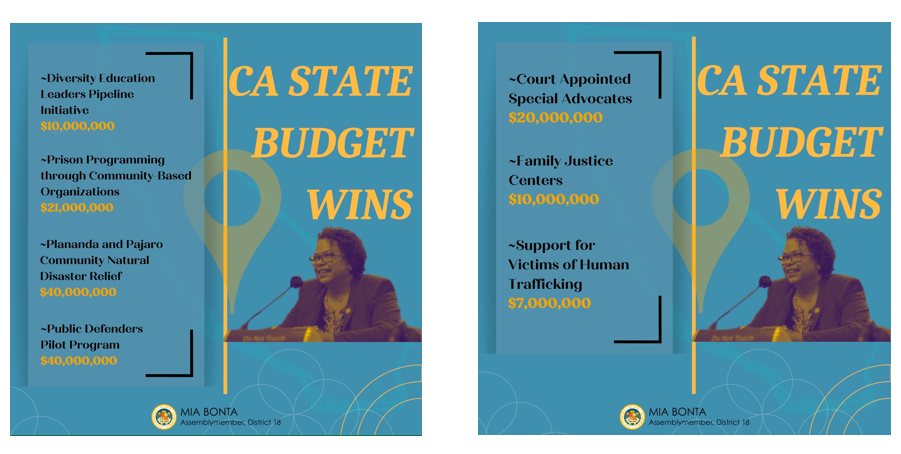 There is so much more that we delivered for California ranging from preserving public transportation, increasing reimbursement rates to childcare providers, continuing funding for homeless programs, and providing more money to support the learning of our youngest children. We did this while ensuring that we have strong budget reserves and plan for an unknown future.
Although we still have much work to do, I am proud of the progress made in the budget for investments within AD-18.
Yours in Service,

Mia Bonta
Assemblymember, 18th District
In this newsletter, you'll find the following information:
Assemblymember Mia Bonta & staff are committed to keeping AD-18 residents fully engaged and informed.
Please send this newsletter to a friend and subscribe!
Stay connected with our office, follow us on social media:
Twitter

 Instagram

 and Facebook

 or Email Me, (510)286-1670
---
Section 1: AD-18 Community Resources and Engagements
Section 1A: Oakland African American Chamber of Commerce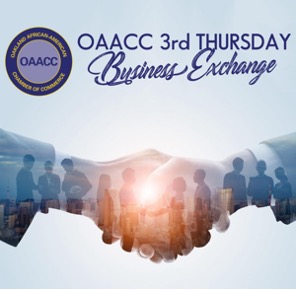 The OAACC is hosting its monthly 3rd Thursday Business Exchange coming up on August 17th. This event is an opportunity for community members to gain business insight. The event will hold a panel for participants to learn more about how to pursue their business endeavors.
If you're interested in learning about the business sector, RSVP here to sign-up.
---
Section 1B: Lincoln Summer Nights in Oakland-Chinatown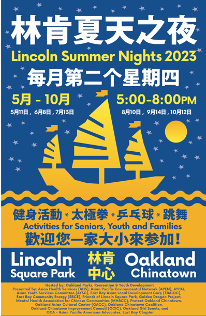 Lincoln Summer Nights is a community event dedicated to strengthening the relationship across multiple generations, racial, and socio-economic groups to help create a sense of belonging. Lincoln Summer Nights take place every 2nd Thursday of each month in Oakland-Chinatown. This will be an event filled with fun, music, culture, and resources readily available for all.
When: Every 2nd Thursday
Where: Lincoln Square Park, Oakland
If you'd like to learn more about Lincoln Summer Nights, you can click here for more information.
---
Section 1C: Bulky Block Party
Have some items you need to get rid of? Then come out to Oakland's Bulky Block Party to discard unwanted items on the last Saturday of every month. This event is only open to Oakland residents and you must provide proof of residency.
When: Saturday August 26th, 2023
Where: 7101 Edgewater Dr. Oakland, CA 94621
For more information about this event, please click here.
---
Section 1D: Lake Merritt Freedom Vendor's Market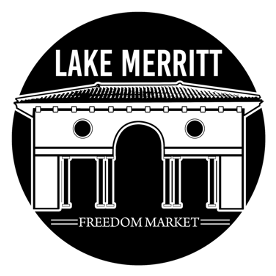 Every Saturday and Sunday, the Freedom Vendor's Market is hosted at Lake Merritt. Many different types of vendors are present sharing various products for sale. This is an opportunity for fun and food. You can also take the time to come out and interact with the community and support our local vendors. For more information about the market or if you'd like to learn how to personally get involved, please visit:
When: Every Saturday and Sunday
Where: Lake Merritt
To learn more about Lake Merritt Freedom Vendor's Market, please click here.
---
Section 1E: Youth Fellowship Program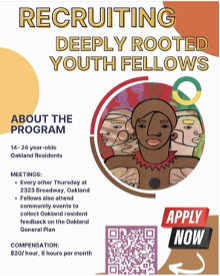 The Deeply Rooted Youth Fellowship Program is an opportunity designed to include the voice of our youth in the processes in the Oakland General Plan. The fellowship is open to individuals ages 18-24 who are interested in working on their leadership skills while giving back to their community. The end goal is to provide an avenue for incorporating youth participation in the planning for the city of Oakland so that our young people have a seat at the table to discuss what they'd like to see happen in their community. The application for the fellowship is open and you can apply online and email megani@urbanstrategies.org with any questions.
To learn more about the Fellowship Program please visit: deeplyrooted510.org
---
Section 1F: Getting Involved in National Night Out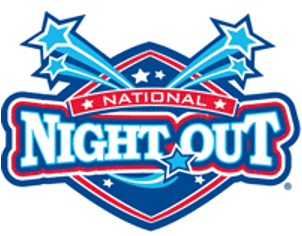 National Night Out is almost here! Come have fun with the community on Tuesday, August 1st to celebrate and enjoy each other's presence. Hosts can throw barbecues or any other type of outdoor event and any individual who'd like to host an event to celebrate is welcomed. If you would like to host an event please register no later than July 21st to receive a Host Packet. In order to register, all individuals must sign-up for an account on the City of Oakland's official website.
To learn more about National Night Out 2023 in Oakland, Alameda, and Emeryville.
---
Section 1G: Public Message from Director Dunn of Oakland Animal Services Adoption Needed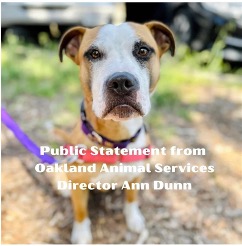 A special message from Oakland Animal Services Director Ann Dunn displays an urgency for adoption. There is severe overcrowding and not enough kennels for all the dogs currently at the shelters and there is a list of dogs in need of a loving home.
Take the time to please check out the list and consider adopting a new friend and helping them find their forever family.
To learn more about adoptions, click here.