Dear Friends,
October holds a special significance for all Californians as we come together to celebrate Filipino-American History Month, a tradition first recognized by the Filipino-American Historical National Society in 1988. The historical artifacts trace the first Filipinos in California dating back to October 18, 1587, a legacy of over 430 years. Since then, Filipino Californians have become the state's 3rd largest demographic group, contributing significantly to our culture and communities.
As a proud mother of three Filipino children, I stand wholeheartedly committed to our Filipino residents in Assembly District 18 and champion their contributions to California's rich cultural tapestry. Whether it's the City of Alameda's Bohol Circle Immigrant Park, which provides a physical space for community gatherings, or the remarkable achievement of Emeryville's first Filipina Mayor and Councilmember, Dianne Martinez, Filipino heritage is deeply woven into the very fabric of Assembly District 18.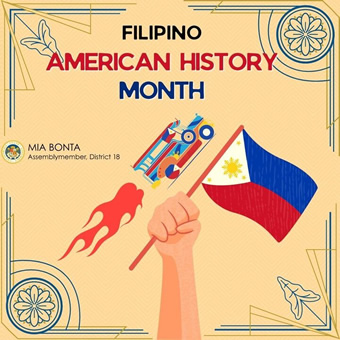 In this e-newsletter, you will find resources for National Fire Prevention Month, home insurance, no-cost services, grant opportunities, and neighborhood activities to celebrate in the community. Additionally, you can explore my previous newsletters, which offer various resources for local residents to utilize. Let us come together, celebrate our diverse heritage, and unite in our collective efforts to ensure the safety, prosperity, and well-being of all residents in Assembly District 18.
Yours in Service,

Mia Bonta
Assemblymember, 18th District
In this newsletter, you'll find the following information:
Assemblymember Mia Bonta & staff are committed to keeping AD-18 residents fully engaged and informed. Please send this newsletter to a friend and subscribe!
Stay connected with our office, follow us on social media:
Twitter

Instagram

and Facebook

or Email Me, (510)286-1670
---
National Fire Preparation Month
CalOES Recovery Resources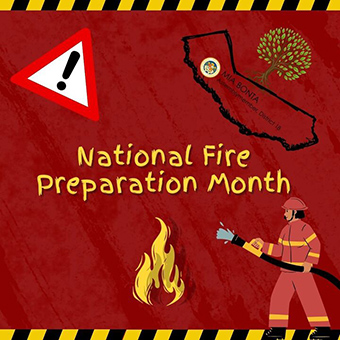 As we embrace the arrival of fall this October, it also serves as a crucial reminder of the need to ready ourselves for the potential impacts of drastic weather changes in both our homes and workplaces. October marks National Fire Preparation Month. It is a profound and solemn reminder of our vulnerability to wildfires - as is our recent experience with the harmful effects of wildfires throughout the Bay Area and California. In our pursuit to comprehensively combat and prevent wildfires, I express my full gratitude to the Office of Emergency Services for providing a valuable list of State Recovery Resources that residents can access. Additionally, I want to express my deepest appreciation to our brave California Firefighters who ensure our safety and protection year-round.
Learn more about how CalOES can help wildfire survivors.
---
State of California Updates and Resources
California Insurance Commissioner Consumer Protection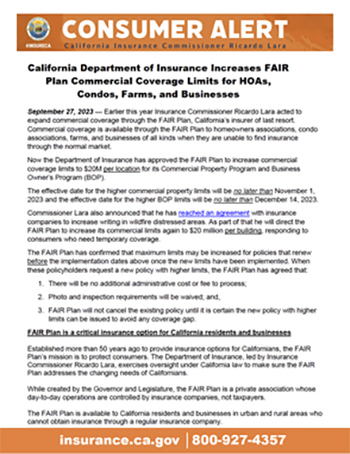 Insurance Commissioner Ricardo Lara acted to expand commercial coverage through the FAIR Plan, California's insurer of last resort, available to homeowners associations, condo associations, farms, and businesses of all kinds when they are unable to find insurance through the normal market. The Department of Insurance has approved the FAIR Plan to increase commercial coverage limits to $20M per location for its Commercial Property Program, effective no later than November 1, 2023, and Business Owner's Program (BOP) no later than December 14, 2023.
Judicial Council of California Request to Reduce Ticket Fees

Chaptered in 2021, AB 143 requires all of California's 58 state trial courts to offer alternatives to paying tickets if you can't afford to pay the fine.
You may ask the court for a:
Fine Reduction
Payment plan
Plan for delayed payment
Community service
In order to submit your request, have on hand:
Your citation or driver's license number
Summary of your monthly income and expenses
Record of public benefits, if any
Any ticket that is past due may still apply. Learn more at California Courts.
California Office of the State Public Defender's Racial Justice for All Implementation Grant

Through the Office of the State Public Defender, the Racial Justice for All Implementation Grant is aimed at legal service providers who have experience with habeas litigation and the Racial Justice for All Act. A total of nearly two million dollars is being allocated to provide local assistance for the implementation of the Racial Justice for All Act Grant, and funds may be used for attorney's fees, salaries, experts, investigators, paralegals, and other RJA claims. A maximum of five awards is anticipated with the average amount being $375,000 over 24 months.
Eligible applicants are 501(c)(3) nonprofits, public agencies, public defender agencies, and California law schools. The grant application portal's anticipated open date is October 2023.
For more information, email OSPD.grant@ospd.ca.gov or visit the California Grants Portal.
Lunch at the Library Summer 2024 Grant

Through the California State Library, participating California public libraries can apply for the "Lunch at the Library Summer 2024 Grant" to provide USDA summer meals for children and students during Summer 2024. Applications are non-competitive and all participating Lunch at the Library will receive funds.
Eligible applicants are all California public libraries, Friends of the Library Groups, or Library Foundation 501(c)(3). The application due date is November 29, 2023, at 12 p.m.
Learn more about the Lunch at the Library Summer 2024 Grant and apply.
Urban and Community Forestry Grants: Green Schoolyards Nonprofit Child Care Facilities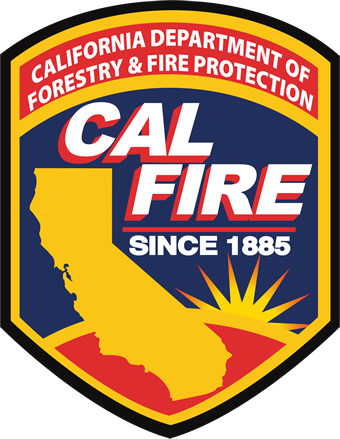 Through California Fire, the Urban and Community Forestry Program has a total of $30 million dollars available in grant funds for nonprofit childcare facilities receiving government funding to support the planning and implementation of the "Green Schoolyards Project." Benefits of the projects should include reduced greenhouse gas (GHG) emissions, mitigation of extreme heat, enhanced learning environments, increased water supply, cleaner air and water, reduced energy use, flood and stormwater management, and improved public health. Projects may provide a combination of these benefits, co-benefits not mentioned, or even benefits not yet clearly defined.
Eligible applicants are cities, counties, qualifying districts (i.e., parks), or 501(c)(3) nonprofits. Green Schoolyards Project proposals are due on December 1, 2023.
Review the Green Schoolyards Grants guidelines.
---
AD-18 Community Resources
Alameda Health System Free Flu Shots and Community Health Fair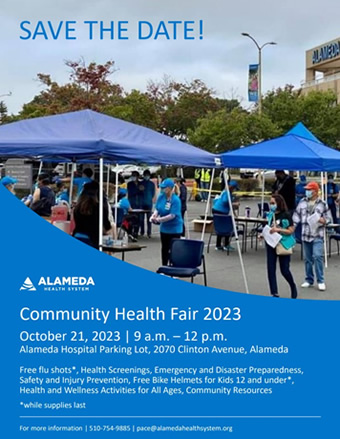 In partnership with the County of Alameda Department of Public Health, save the date for October 21, 2023 for the Community Health Fair which will provide eligible Alameda County residents with free flu shots, health screenings, and other preparedness opportunities.
Saturday, October 21
9 a.m. - 12 p.m.
Alameda Hospital Parking Lot
2070 Clinton Ave
To learn more about the Community Health Fair, email Pace@alamedahealthsystem.org.
Alameda County Community Health Clinic Free Flu Vaccines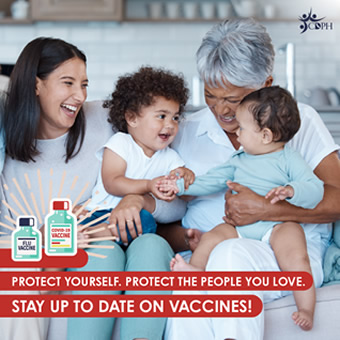 Protect yourself and your family by getting the flu shot today! The Alameda County Department of Public Health offers an extensive health resources webpage to find your nearest free/low-cost doctor or health clinic.
Quick Flu Shot Facts:
Flu vaccines cause antibodies to develop in the body about two weeks after vaccinations and provide protection against flu illness.
Flu vaccines help pregnant people, children, and older adults lower the risk of flu illness.
Flu vaccines significantly increase the protection of people around you.
Find your nearest flu shot clinic and learn more about influenza and other respiratory diseases.
Active Oakland Grants for Businesses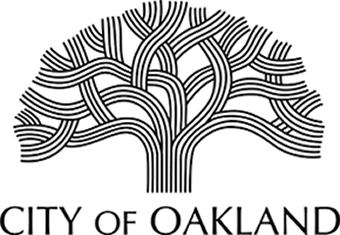 The City of Oakland recently announced "Activate Oakland," a grant program for local businesses to receive up to $10,000 (minimum allocation of $1,000) to assist with funding events and activations in commercial districts and business corridors.
Eligible applicants are any business, resident, community group, or 501(c)(3) nonprofits. Sponsored events must be free to the public and take place in an Oakland commercial district.
Grant applications are due October 12, 2023.
Paid Environmental Justice and Mentorship Program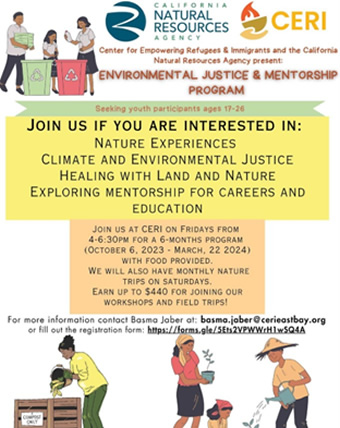 The Center for Empowering Refugees and Immigrants ("CERI") in partnership with the California Natural Resources Agency is accepting applications for youth and young adult leaders interested in building their experience with climate and environmental justice in a 6-month program. Selected participants will receive a $440 (or up to $720) stipend after successful completion. Program participants meet 2 hours weekly for a workshop and 4 hours once a month for a professional development trip, with food provided.
Eligible applicants are 17-26 years of age. The application due date is October 14, 2023.
Email Basma.jaber@cerieastbay.org for more information and apply online.
---
AD-18 Community Engagement and Activities
East Bay Real Estate Cooperative Workshop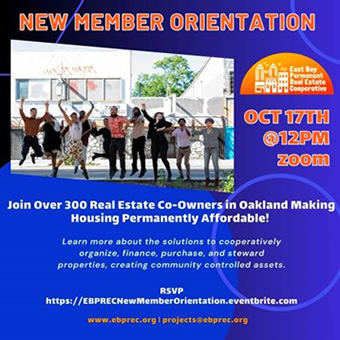 Join East Bay Permanent Real Estate Cooperative to learn more about the solutions to cooperatively organize, finance, purchase, and steward properties, creating community-controlled assets.
Tuesday, October 17
12 - 1 p.m.
Zoom
Learn more and register online.
Building Housing Wealth: Granny Flats & ADUs in East Oakland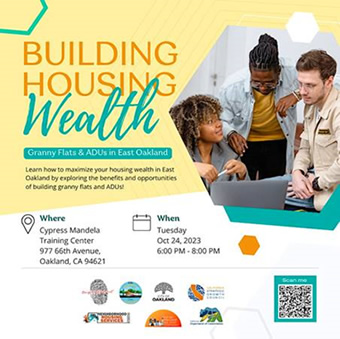 Learn how to maximize your housing wealth in East Oakland by exploring the benefits and opportunities of building granny flats and ADUs!
Tuesday, October 24
6 - 8 p.m.
Cypress Mandela Training Center
977 66th Ave.
The 3rd Annual Dr. Huey P. Newton Day at 9th Street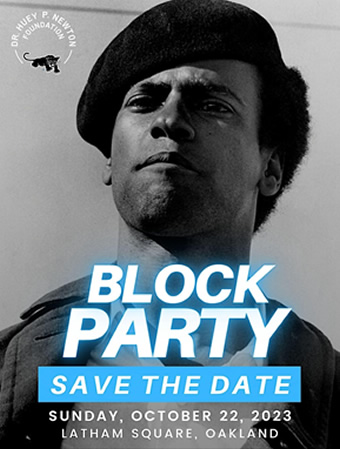 The Dr. Huey P. Newton Foundation invites residents to celebrate the 3rd Annual Huey P. Newton Day and the 56th Anniversary of the Black Panther Party. Free and open to all residents with live music, food, vendors, youth performances, and other festivities at Latham Square and Broadway.
Sunday, October 22
11 a.m. - 3 p.m.
Latham Square
Oakland