SACRAMENTO – Assemblymember Mia Bonta (D-Oakland) honored Elaine Brown for making HERstory as part of the Women's Caucus annual celebration of Women's History Month.
"Elaine Brown is a social justice advocate, story teller, trailblazer, accomplished musician and a strong advocate for communities of color especially when it comes to breaking barriers to employment," said Assemblymember Bonta. "Elaine is high energy, compassionate and steadfast in her beliefs. Not to mention, has had an amazing career. She was the only woman to ever lead the Black Panther Party, she has spent 25 years advocating for the release of an innocent Black man, who at the age of 13, was convicted of a crime he didn't commit and is currently constructing a 79-unit all-affordable apartment complex in Oakland."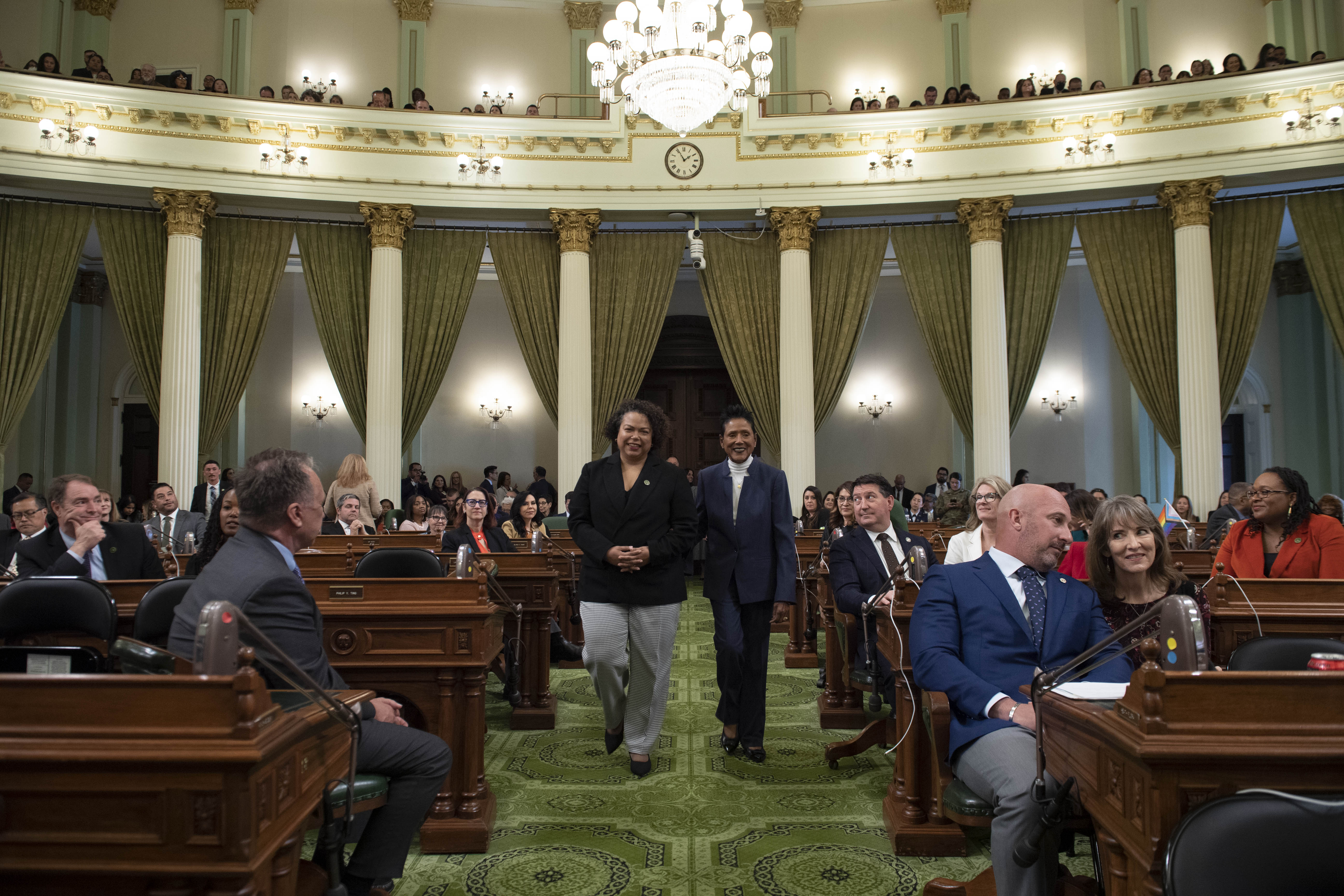 Elaine grew up in the ghettos of North Philadelphia, is a "Distinguished Graduate" of the Philadelphia High School for Girls, and attended Temple University, UCLA, Mills College and Southwestern University School of Law.  
Elaine joined the Black Panther Party in 1968 and helped the party set up its first Free Breakfast for Children program in Los Angeles, as well as the Party's initial Free Busing to Prisons Program and Free Legal Aid Program. Elaine chaired the Black Panther Party from 1974 until 1977. She moved to France in 1990 and returned to the US in 1996 and found the Fields of Flowers, Inc., a non-profit organization, in Atlanta Georgia committed to providing educational opportunities for impoverished African-American children.
Elaine is the Executive Director of the Michael Lewis Legal Defense Committee, supporting the legal appeal of Lewis ("Little B"), who, arrested in 1997 in Atlanta, Georgia, at the age of 13 for a murder he did not commit, was convicted and sentenced as an adult to life in prison, where he remains.  The legal battle for his freedom continues.
Elaine is CEO of the non-profit organization Oakland & the World Enterprises, Inc. (OAW), dedicated to launching and sustaining for-profit businesses for cooperative ownership by formerly incarcerated and other people facing extreme barriers to economic survival. OAW's current housing project, The Black Panther, will have a 79-unit 100% affordable housing complex for people with very low and extremely low incomes. Elaine is purposely hiring formerly incarcerated and Black contractors.
"To be recognized by Assemblymember Mia Bonta for my work as a former leader of the Black Panther Party and, now, as an affordable housing developer is an honor.  More, though, to be among the significant women also recognized by the entire California Legislature at the March 20, 2023, Women's History Month ceremony for California Women Making HERstory was the highest honor for me" explained Elaine.  "The collective and respective contributions of the other women so recognized, the doctors and teachers and social activists and humanitarians, is so powerful as to allow me to stand taller and work harder in the interests of all people and the planet.  I am   grateful."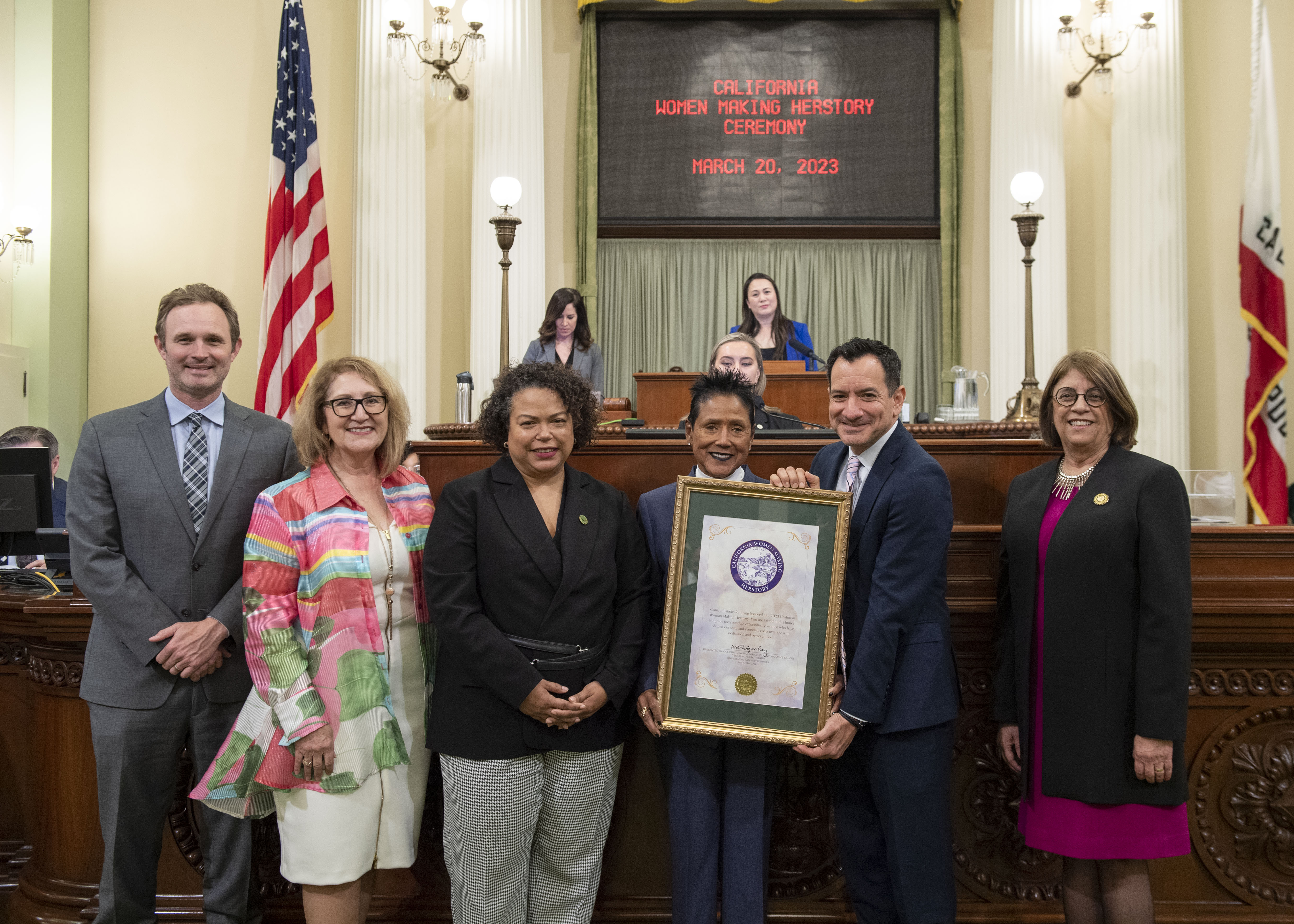 Women's History Month was established by Congress in the 1980s to acknowledge that the significant contributions women have made to every field of American life were largely undocumented and unknown. The purpose of the month was to recognize and highlight women's unsung specific achievements in science, technology, arts, business, and more.
"It is truly an honor for me to recognize Elaine Brown on the Assembly Floor for making HERstory. She is truly an icon. Her work, her legacy, her tenacity and her commitment to making Oakland, and this state a better place is worthy of celebrating," concluded Assemblymember Bonta.