Medically Supportive Food and Nutrition Advocates Gather in Support of AB 1644 to Improve Patient Health and Lower Soaring Health Care Costs
(Sacramento, CA) – On Tuesday, April 25 physicians, patients, and food equity experts met at the State Capitol to express their support for Assembly Bill 1644, authored by Assemblyperson Mia Bonta, D-Oakland. Champions of the food as medicine movement, including the San Francisco Bay Area Planning and Urban Research Association, (SPUR), stressed the many benefits of incorporating medically supportive food and nutrition into patient care in California, including improved health outcomes and reduced healthcare costs.
"California has recognized the critical role of nutrition and its influence on health outcomes and health equity," said Bonta. "Too many Californians, particularly Californians of color, are living with largely preventable chronic conditions. Adequate food and nutrition are a fundamental part of preventing and treating chronic conditions, and can significantly improve a patient's quality of life and health status while also reducing healthcare costs," she concluded.
Behaviors related to diet, exercise and smoking are major factors in determining health status and the likelihood of chronic disease. Food as medicine programs aim to leverage targeted interventions to prevent, manage, treat and, in some instances, reverse disease by improving nutrition to help children and adults get well and stay healthy. These programs exist in the context of other food assistance programs, such as the CalFresh Program and the Women, Infants and Children program; other efforts such a program in Alameda County lead by former Supervisor Wilma Chan.
AB 1644 will make medically supportive food and nutrition interventions a covered benefit under the Medi-Cal program and will require medically supportive food and nutrition interventions to be covered when determined to be medically necessary by a health care provider.
Medically supportive food and nutrition interventions is a plan comprised of nutrient rich whole food to improve patients' heath through medically tailored meals, food pharmacies, medical tailored groceries, produce prescriptions and cooking/behavioral coaching.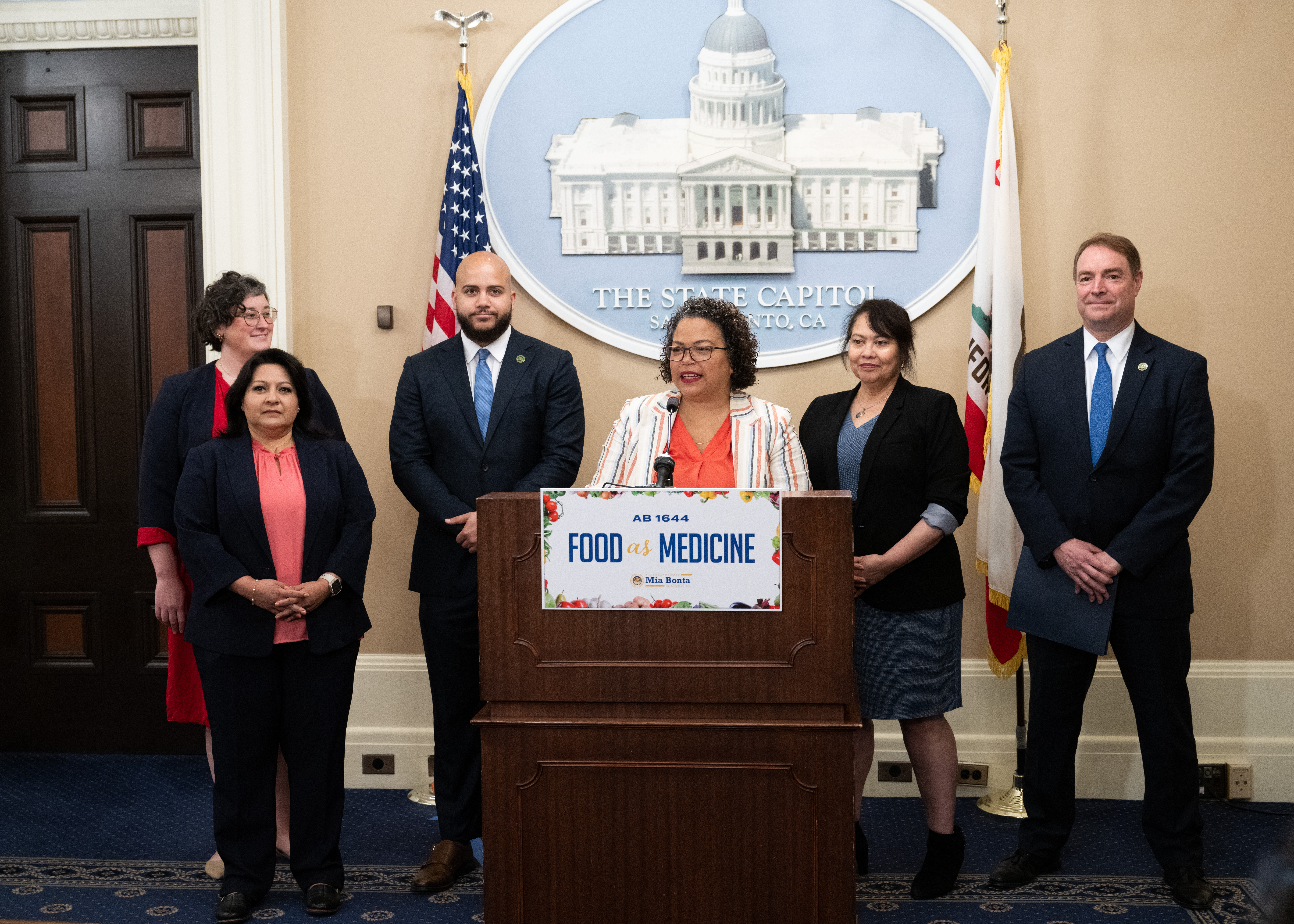 "Providing medically supportive food and nutrition services to eligible individuals with specific medical conditions is a crucial step in promoting health equity and reducing the burden of diet-related illnesses. AB 1644 will help ensure that Californians have access to the care they need to live healthy, fulfilling lives," said SPUR's food and agriculture policy manager Katie Ettman.
Joining Assemblymember Bonta at the launch of the initiative was Speaker-Designate Robert Rivas (D-Salinas), Assemblymember Damon Connolly (D-San Rafael) and Assemblymember Isaac Bryan (D-Los Angeles) who had the following to say:
Speaker-Designate Rivas: "Nutritious foods have the power to help people perform better, heal better, and feel better. I am excited to support this bill because it puts the right food in the hands of the right Californians."

Assemblymember Connolly: "Providing medically supportive food and nutrition services to eligible individuals with specific medical conditions is a crucial step in promoting health equity and reducing the burden of diet-related illnesses. I am authoring a similar bill, AB 620, which Asm. Bonta is co-authoring. Together, these bills will allow Californians suffering from inherited metabolic and digestive disorders greater access to nutritional support, in addition to medication, by expanding coverage to 'medically necessary food,' which have proven to reduce symptoms and improve quality of life."

Assemblymember Bryan: "Food is essential. Food is health, wellness, and food is medicine. And yet there are real food deserts in our communities. There are stretches where you can see five liquor stores before you find one healthy market. Now is the time to think differently. It's time to shift that paradigm. I'm proud to stand with Asm. Bonta. Food is medicine, and it's time to make it so here in California."
"We have an opportunity to expand proven nutrition programs and more deeply integrate food as medicine into standard patient care," said Bonta.
"Give us an apple, not angioplasty. California is the largest producer of food in the United States. This fact alone makes it imperative that our state leads the way in making sure that access to healthy food and nutrition education is available to all who can benefit," she added.
AB 1644 was heard in Assembly Health Committee and passed out with a 12-0 vote. It now moves to the Assembly Appropriations Committee.