SACRAMENTO – On Monday, April 24, Assemblymember Mia Bonta (D-Oakland), Assemblymember Buffy Wicks (D-Oakland) and Senator Nancy Skinner (D-Berkeley) honored the Oakland High School Boys Basketball Team and the Oakland Tech High School Girls Basketball Team for their victory this year as the 2023 California High School Basketball Champions.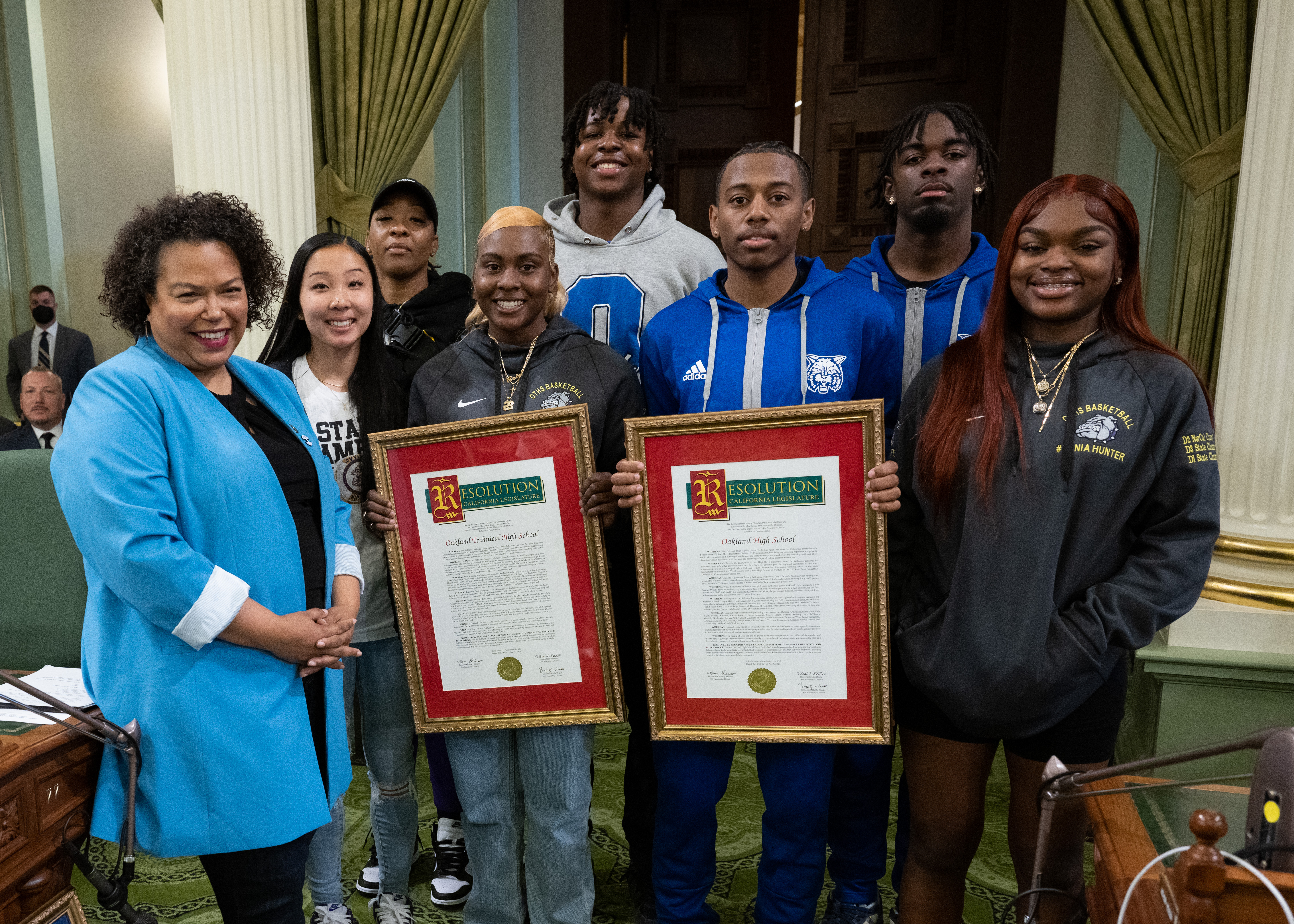 On March 10 the Oakland High School boys basketball team beat Buena Vista High of Ventura with a score of 59-43. This victory is the FIRST state championship for the team.
On the same day, the Oakland Technical High School girls basketball team, beat Santiago High School of Corona 75 to 52. The 2023 victory is the THIRD consecutive title that the Lady Bulldogs bring home.
"I am incredibly proud of both the Wildcats and Lady Bulldogs for such a historic season," said Assemblymember Bonta during the recognition on the Assembly floor.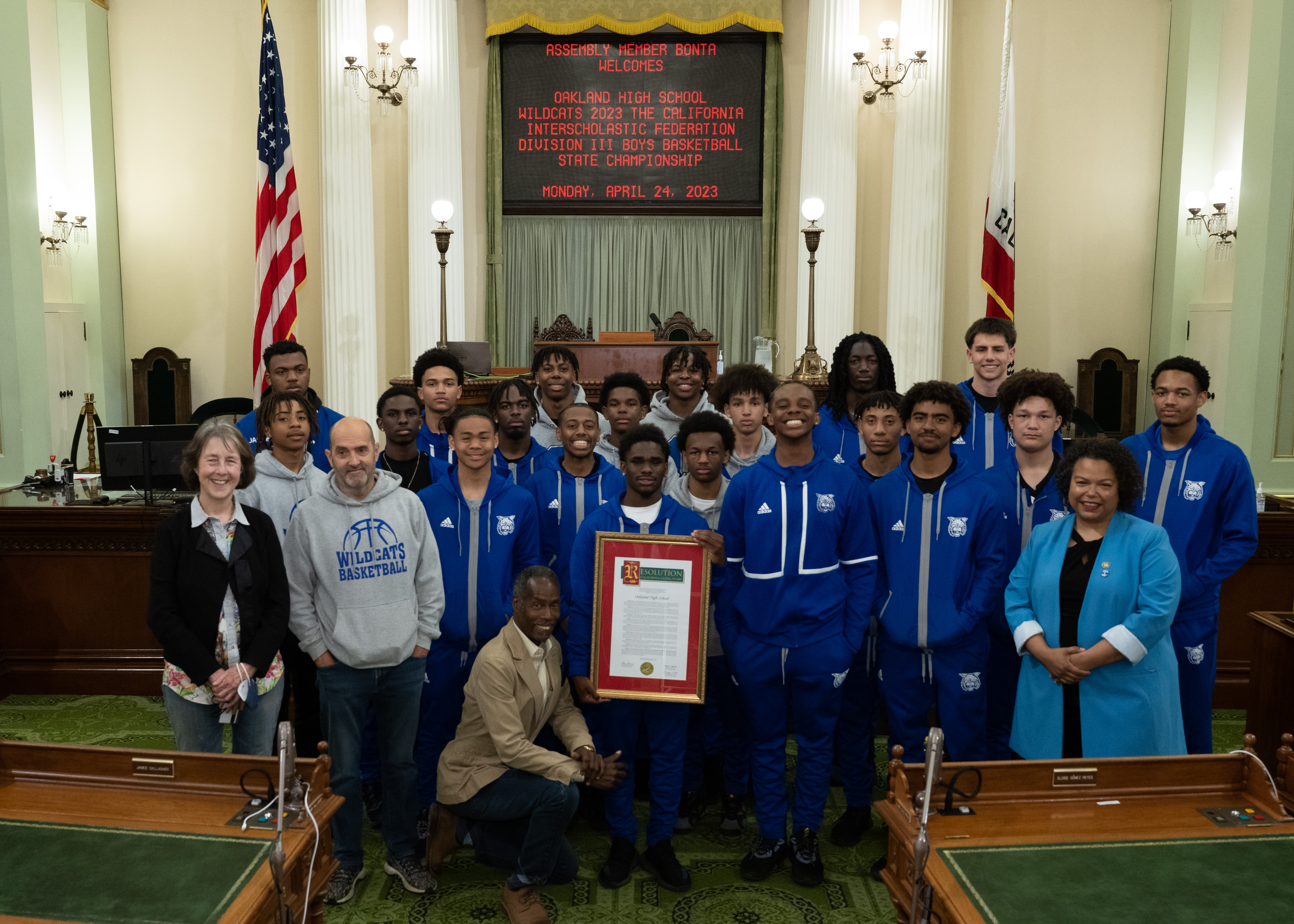 "Oakland has proven again that it's the 'City of Champions,'" said Senator Skinner, "It was my great privilege to honor the Town's two newest champions at the State Capitol: The Oakland Tech High School Lady Bulldogs and Oakland High's Wildcats. These student athletes, their families and their coaches deserve huge congratulations for their amazing accomplishments: Oakland High boys for winning their first-ever state title and Oakland Tech girls for winning their third state championship in a row. Go Wildcats. Go Bulldogs. Go Oakland!"
"It was a pleasure and privilege to host our newest state champions at the Capitol — The Oakland Tech High School Lady Bulldogs and the Oakland High School Wildcats!" said Assemblymember Wicks. "We are immensely proud of these teams for representing 'The Town' with their accomplishments inside and outside the classroom — when Oakland comes to play, we come to win!" 
"I want be clear, these students do this for their family members, for their fellow students, for their community members and for Oakland," said Assemblymember Bonta.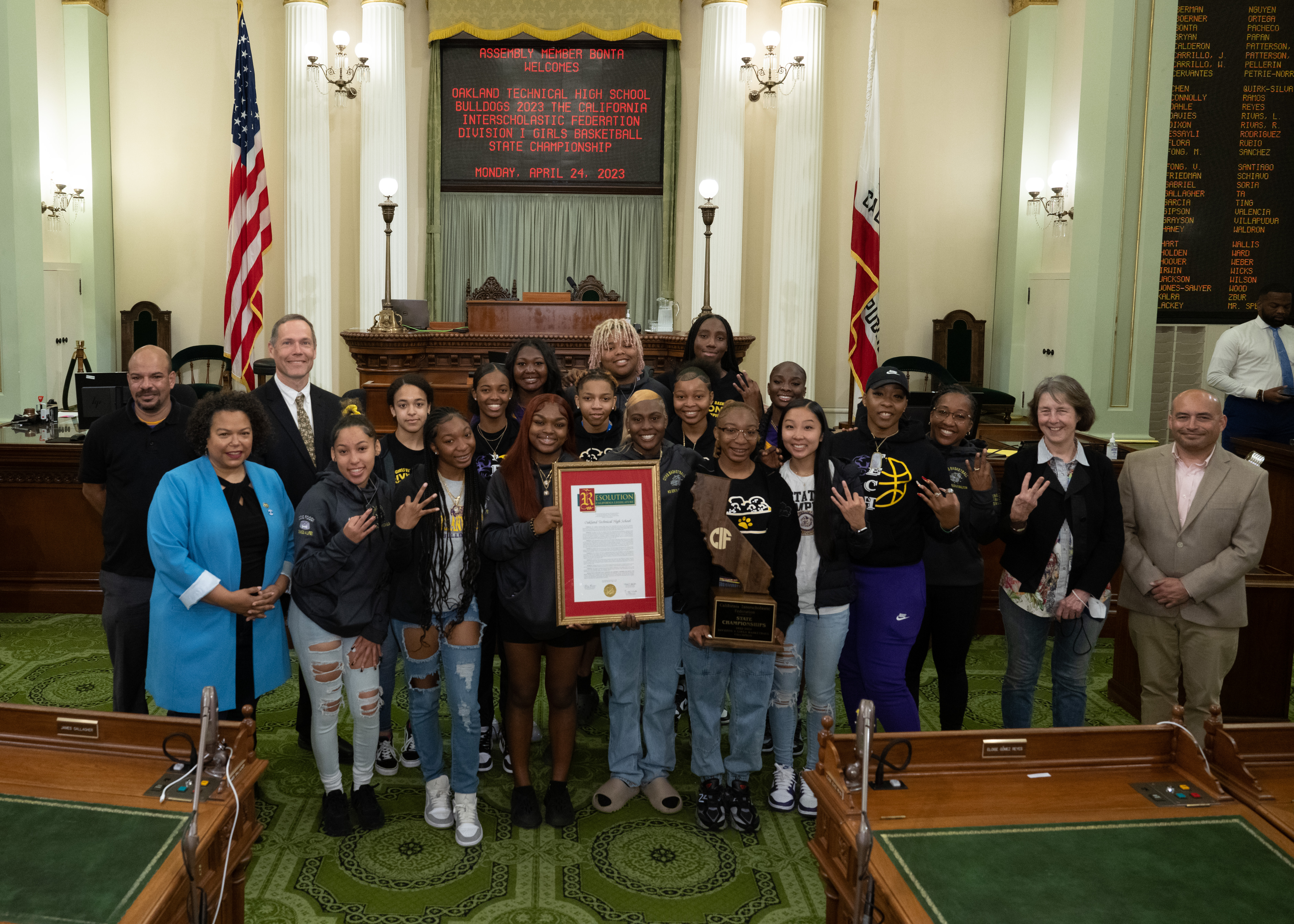 "These student athletes do this while they have to endure gun violence, while they have to endure people telling them all the time that they are not good enough. They do this enough because they rise, and because they are strong and they are proud, and they make Oakland proud of who they are and what they are able to do.  They show California and the country what the Town is – all heart, all spirit, all resilience, all love. Congratulations to our student athletes, your determination and hard work is paying off and you all have proven yourselves as leaders both on and off the court," concluded Assemblymember Bonta during the recognition on the Assembly Floor.
The Assembly Floor recognition included the presentation of resolutions, a highlight of the colleges the seniors at Oakland High School and Oakland Technical School will be attending in the fall, and a warm welcome by colleagues.