Dear Friend,
It has been an honor to be your elected representative in Sacramento, completing my first year in the State Legislature. Many of you were able to join our virtual town hall in September, which highlighted some of the legislative and budget wins that I fought hard for on behalf of our local community. It was important for me to spend this first year uplifting our collective challenges and tackling them head-on, authoring over thirty bills. 
I prioritized fighting for millions of dollars for affordable housing projects across AD-18, including West Oakland and San Leandro, and resources to support our unhoused neighbors, seniors, and community members struggling with mental health challenges. I sought funding to revitalize various areas of AD-18 and to channel investments into efforts that make it easier for more teachers to teach and live in Oakland.
I unapologetically moved legislation that will protect women's reproductive rights and the rights of LGBTQ youth and their families. Additionally, I worked hard to secure resources for cradle-to-career to ensure that youth and their families can pursue their dreams while working to close the digital divide.
My staff here in the District office answered over 6,000 constituent emails and phone calls on unemployment claims, housing issues and liaison with the various State Department agencies. And although we have much more work to do, I'm proud of the strides we have made this Legislative session. I invite you to watch our Legislative and Budget Town hall to get more updates on the work we accomplished at the Capitol and here in AD-18!
Yours in Service,

Mia Bonta
Assemblymember, 18th District
Assemblymember Mia Bonta & staff are committed to keeping AD-18 residents fully engaged and informed. 
Please send this newsletter to a friend and subscribe!
Stay connected with our office, follow us on social media:
Twitter

Instagram

and Facebook

or Email Me, (510) 286-1670
---
In this newsletter, you'll find the following information:
Assembly District 18 Awards Celebration *Highlights!
AD-18 Community Resources and Engagement Opportunities
Federal Student Loan Program, Apply Today!
Halloween Fun
---
Section 1: Assembly District 18 Awards *Highlights!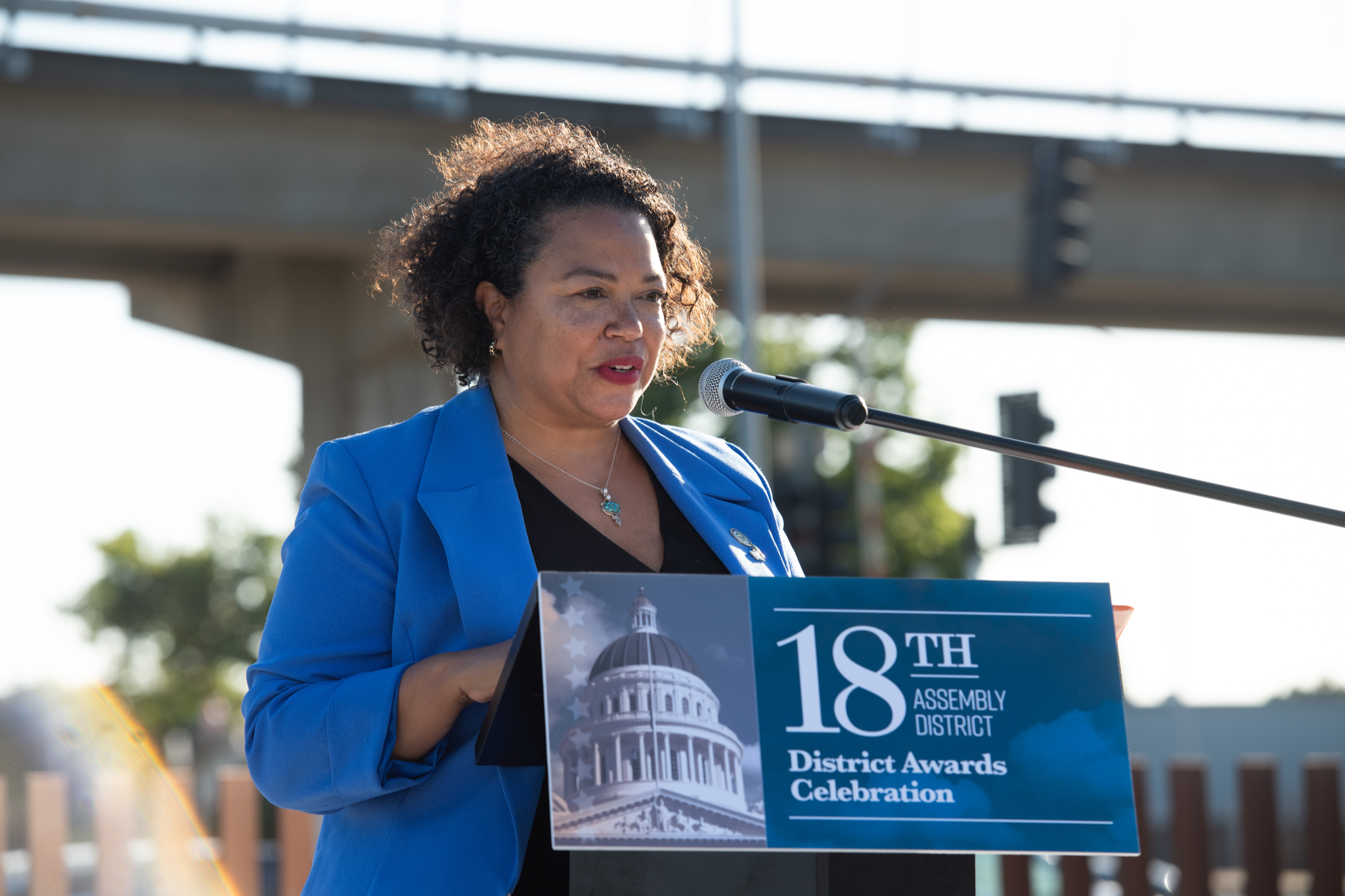 I have had the incredible opportunity to serve the 18th Assembly District for over a year now, and while doing so, I've met so many amazing community leaders. I held my first annual District Awards to celebrate the phenomenal work happening in San Leandro, Oakland, and Alameda. Please watch the highlights video here.
Section 2: AD-18 Community Resources and Engagement Opportunities
Section 2A: Federal Student Loan Forgiveness Program
The Biden Administration has officially launched the student loan relief program, and applications are open until December 31, 2023! If you have student loan debt from a federally backed loan and meet the income requirements, you can get up to $20,000 in relief for your unpaid loans. The application process is easy and will only take a few minutes.
Learn more here.
Start my application today!
Section 2B: Interfaith Council of Alameda County
The Interfaith Council of Alameda County has launched its Safe Car Parking Program for community members that may need to park vehicles overnight. The program provides the following benefits: auto repair, showers and laundry on various days. Those interested can apply here.
Apply to be a Safe Parking Program Monitor.  
Section 2C: West Oakland Job Resource Center
Last month, my office attended an amazing resource fair hosted by West Oakland Job Resource Center that helped link Oaklanders to jobs and educational resources. As we continue to re-adjust post-pandemic, I recognize the urgency to get folks safely back to work and pursue their goals. I encourage you to visit their website for jobs and other amazing opportunities.
They have partnered with some amazing local organizations below:
Section 2D: Trunk or Treat at Verdese Carter Park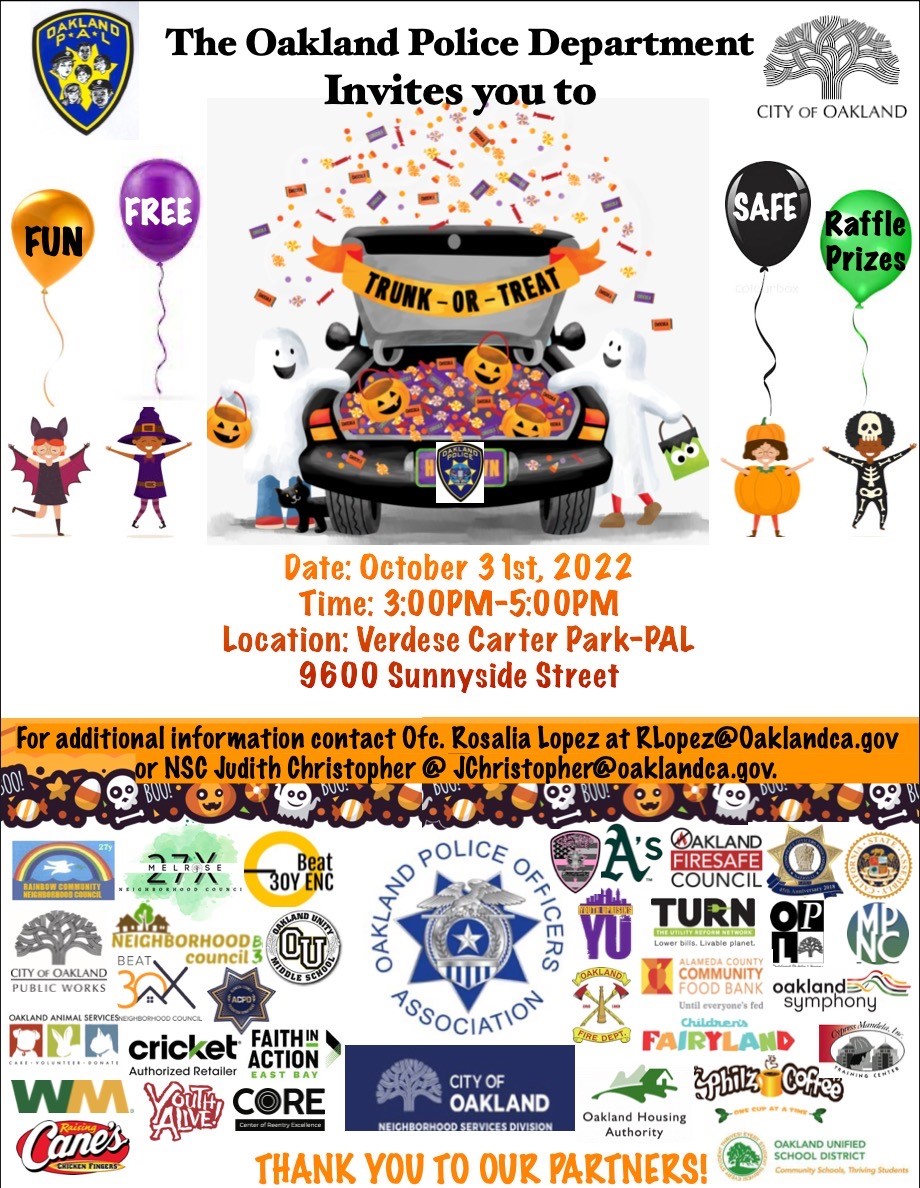 It's that time of year; bring your kids for a trunk or treat experience on Monday, October 31, 2022, from 3 to 5 p.m. This event is free to the community and will have a raffle and lots of candy!
Location: Verdese Carter Park, 9600 Sunnyvale St, Oakland, CA