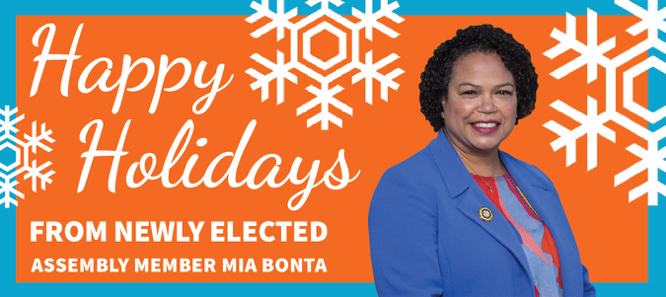 I'm honored to greet you, as your AD-18 Assemblymember during the last month of 2021! As you all know, this year has been a roller coaster ride. However, I am so delighted to have worked side by side with so many of you in the district. I'm very grateful for your support in ensuring that a bold, progressive leader can represent the values of and advocate on behalf of Alameda, Oakland, and San Leandro. 
After being sworn into office on September 7, I went to work advocating for all residents in my district. I'm proud to vote on some of the most progressive bills put forth by the California State Legislature. Many of these bills help advance social and economic justice, educational outcomes, health and safety, criminal justice reform, and most importantly affordable housing.
Despite all of this year's challenges, I hope you can find time to celebrate the resiliency and compassion of the AD-18 community. It is an honor to have earned your support over this past year, and I am eager to see how our fantastic community grows in 2022! Happy Holidays!
Yours In Service,

Mia Bonta
Assemblymember, 18th District
---
In this newsletter, you'll find the following information:
COVID-19 Vaccinations Approved, Children 5-11 years old. 
We know that the impacts of COVID-19 are still on the hearts and minds of everyone, especially as we head into the holiday season. And, now that Children ages 5+ are approved for vaccination, please visit myturn.ca.gov to learn more.
Locations for COVID-19 Vaccination:
The above-listed locations are just a few of many, to view locations nearest your home, click here.
COVID-19 Services and Unemployment Benefits AVAILABLE
Although federal benefits programs have ended, you may still be eligible for regular unemployment benefits and COVID-19 support services through the California Employment Development Department. Supporting you and your business, please access EDD unemployment claim information and pandemic support services here.
Stay Safe and Supported; Rent Relief Services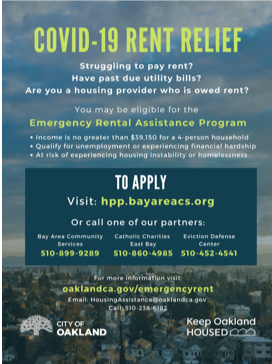 The pandemic has caused lots of undue stress on many families, however your State, County, and Local representatives' offices have resources to assist. Both local- and county-wide payment relief are available. 
To access Alameda County rent relief resources, follow this link. For tenants and landlords residing in Oakland, the city offers additional relief programs here. Additionally, you can visit housing.ca.gov to verify resources based on your home address.
Affordable Health Care Coverage With Covered California!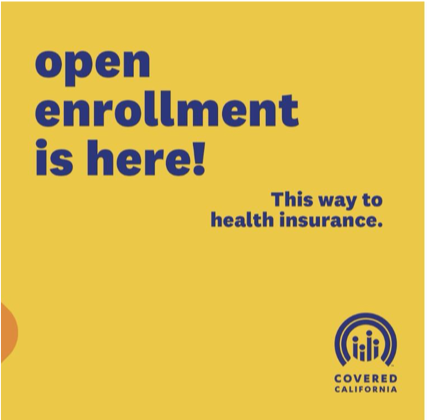 Having health insurance matters. From needing to see a doctor when you're sick or injured to preventive care to avoid chronic but treatable conditions, having coverage means you and your family are protected and can readily receive care whenever needed. Coverage also means having access to all of your health care needs, including both physical and mental health care. 
Covered California's annual Open Enrollment period is now open!
Protect yourself and your loved ones by getting covered today. To find out if you qualify for a Covered California health plan, we urge you to please visit: https://www.coveredca.com.
Grants Available to Preserve California LGBTQ+ History
At the request of the LGBTQ+ members of the Legislature, Gov. Newsom included the funds in this year's budget to better preserve the state's growing number of Lesbian, Gay, Bisexual, Transgender, and Queer archives and make it easier to share their contents. A previous round of grants for LGBTQ+ archives was awarded in 2019.
"There are many stories that explain who California is and who we're becoming. The contributions of the LGBTQ+ community and the evolution in California's attitudes toward them are important stories to share. These grants will help do that," said State Librarian Greg Lucas.
The program will award one-time grants for projects at institutions of all sizes from large archival institutions with a global reach to smaller, localized collections. Applicants may request between $5,000 and $150,000. Proposed projects should be scalable in case the amount offered to grantees is lower than the amount requested.
Applications are due by January 7 at 5:00 p.m. 
Learn More & Submit An Application
Redistricting Oakland; Stay Informed
Redistricting will impact all residents living in the various cities across Alameda County. Community engagement of the process of drawing lines for city, county and states will directly impact who is representing your community and the resources that are received.
The Commission is responsible for approving the final boundary lines no later than December 31, 2021. The Redistricting committee has been hard at work, please provide feedback on the currently proposed maps. And, learn more about redistricting, view a video here.
View Schedule for all upcoming meetings here.
City of Oakland Schedule here.
Final Commission meeting to adopt map: Thursday, December 30, 2021
Oakland Residents, Expanded Service to Address illegal Dumping
Waste Management of Alameda County, Inc. (WMAC) is creating expanded and free services to help Oakland combat illegal dumping. Starting November 15:
All Oakland residents can now make a FREE appointment to self-haul up to 4 cubic yards of junk to the Davis Street Resource Recovery Complex in San Leandro. (2615 Davis Street, San Leandro, CA 94577)
Renters in apartments can now directly order a curbside bulky pickup. Renters no longer need permission from their property manager or owner.
All Oakland residents can now dispose of up to 4 cubic yards of non-recyclable materials per household (increased from 1.5 cubic yards for renters, and 3 cubic yards for single-family homes).
Read more here.
Out & About in Assembly District 18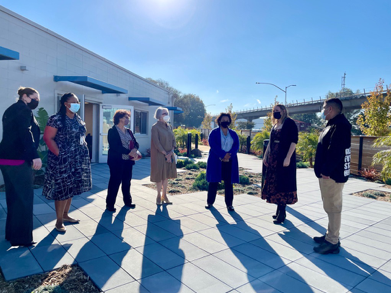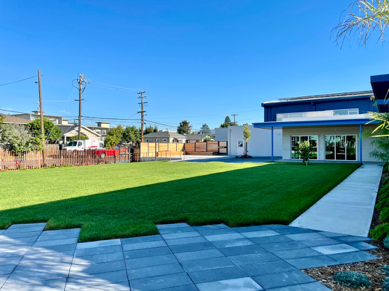 Assemblymember Mia Bonta, San Leandro Mayor Pauline Cutter, Councilmember Deborah Cox, City Manager Fran Robustelli visited the newly renovated Boys and Girls Clubs of San Leandro with a teen center, tech lab, gym, aquatics, event space, and more! Visit the Boys & Girls Club Of San Leandro
City of Alameda Honors Local Heroes at the community service awards. Assemblymember Bonta, along with the Mayor Ashcraft of Alameda, were honored to celebrate the service of the awardees for their outstanding work during one of the most difficult times in our Country. It was your leadership skills that helped our community persevere and upheld our businesses and youth during the pandemic. Read more.
Legislative Updates, Looking Forward to 2022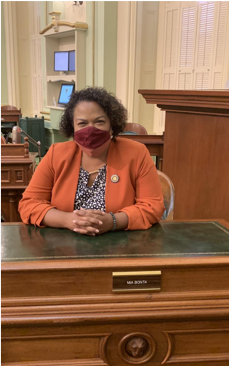 I was sworn in with four days remaining in the 2021 legislative session and was proud to make tough, important votes that help advance a more just and equitable CA (e.g. police decertification, affordable housing, criminal justice reforms, etc.). My team and I are hard at work developing my inaugural legislative and budget package, with housing and homelessness, education, reentry, reproductive justice, and climate action as top priorities. Also, I had the opportunity to join the Assembly Housing Work Group, and traveled across the State of California, becoming acquainted with the various housing needs impacting our communities.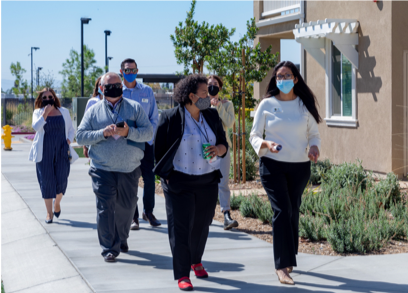 Additionally, I am authoring a bill sponsored by the state Superintendent of Public Instruction Tony Thurmond on early childhood literacy, a bill sponsored by Stop AAPI Hate to address the spike in harassment, a bill to strengthen partnerships between our museums and nonprofits, as well as budget requests to support early childhood literacy and the MACRO program in Oakland. The MACRO program will provide and broaden mental health and alternative responses for those experiencing a mental health emergency.
Lastly, during the final four days of the 2021 session, I was able to vote on at least 150 bills, here are just a handful for your interest:
SB 2, Police Decertification Act: Holds peace officers accountable for their actions by eliminating certain legal immunities that protect them against lawsuits for any illegal actions committed while on the job and decertifying officers who are found to have abused their power in the line of duty.
AB 1043, Affordable Housing: Making housing more affordable for low-income families by readjusting the standard for "affordable rent" to align with household income.
AB 124, Victims in Justice Systems: Provides defense to victims of human trafficking/sexual violence who commit crimes by requiring the prosecutor to consider mitigating circumstances such as past abuse. 
AB 333, Gang Enhancement Reform: Makes it more challenging for prosecutors to add gang enhancements sentences.
AB 481, Law enforcement and state agencies: military equipment: funding, acquisition, and use: Requires Law Enforcement Agencies to receive approval from their governing body before acquiring or using military equipment.
AB 89, Peace officers: minimum qualifications: Peace officers, minimum qualifications: Enacts new "modern policing degree program" to increase standards in the process of becoming a peace officer.
AB 41, Broadband infrastructure deployment: Requires the Department of Transportation to construct conduits that support broadband infrastructure, as well as requiring the Public Utilities Commission to maintain a widely accessible map showing the availability of broadband service provided in the state.
SB 321, Employment safety standards: advisory committee: household domestic services: Requires the Chief of the Division of Occupational Safety and Health to convene with an advisory committee that will recommend policy and work with the State Legislature to protect the health and safety of household domestic service employees.
Some of these bills advanced and were signed by the Governor; others the legislative body will revisit in January 2022.
Read The Full Legislative Bills Breakdown here.
Assemblymember Mia Bonta In the News: