Dear Friend,
Happy Women's History Month! I hope you have been able to take some time in your busy schedule to celebrate and honor the women in your life. This month we are asked to reflect on the accomplishments of the past, while celebrating the incredible ways women continue to improve our communities. We know that women have always been on the front lines, challenging the status quo and pushing for meaningful change. Women and girls across the world have fought for gender equality by pursuing their own passion as doctors, architects, lawyers, elected officials, and more. Let's continue to uplift the incredible achievements of women as we work together to build a future where gender is no longer a barrier to success.

I am delighted to honor the legacy of Women's History Month by celebrating a few local leaders from Assembly District 18. This year, I am thrilled to be honoring Elaine Brown as our Woman of the Year Award recipient. Elaine has worked tirelessly throughout her career pushing forward the struggle for Black Liberation and supporting the needs of working-class families. As an activist, writer, and singer, she has built coalitions to empower Black families and move forward with critical economic justice initiatives. Elaine is an inspiration for all of us as we continue to build an equitable future for all Californians.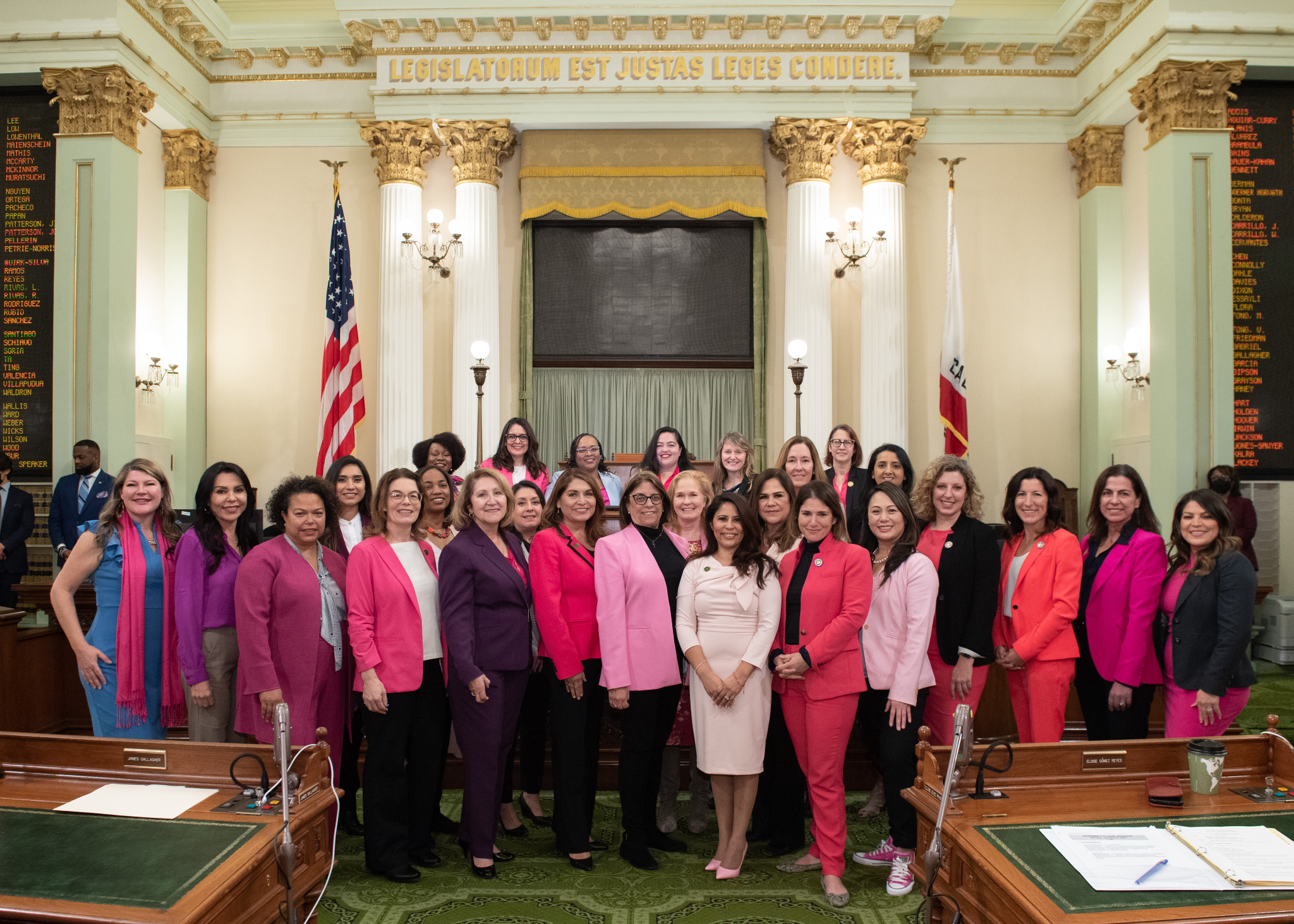 Yours in Service,

Mia Bonta
Assemblymember, 18th District
---
In this newsletter, you'll find the following information:
State of California Updates
Winter Storm Resources
AD-18 Community Resources
AD-18 Community Engagement Opportunities
---
Assemblymember Mia Bonta & staff are committed to keeping AD-18 residents fully engaged and informed.
Please send this newsletter to a friend and subscribe!
Stay connected with our office, follow us on social media:
Twitter

Instagram

and Facebook

or Email Me, (510)286-1670
---
Section 1: State of California Updates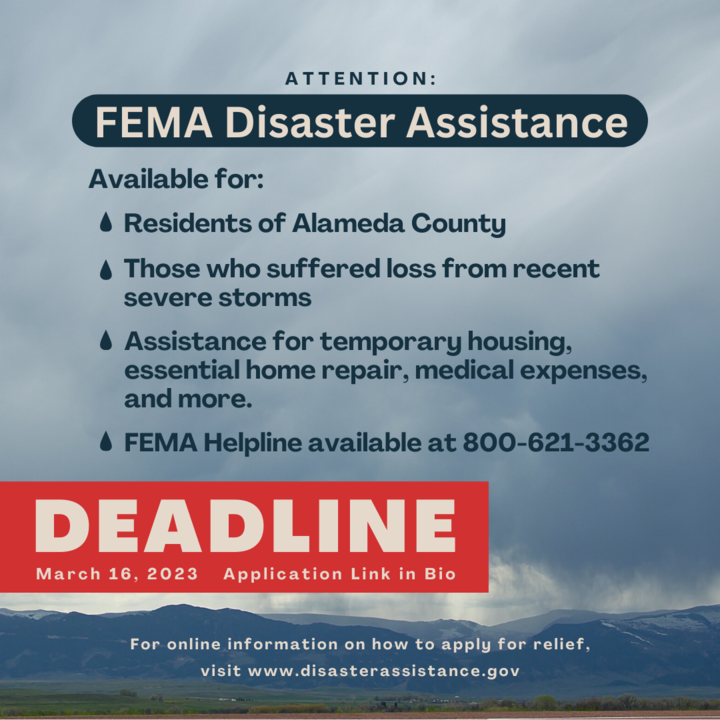 Section 1A: FEMA Disaster Assistance
Residents in Alameda County who suffered losses as a result of California's severe storms are eligible for FEMA Disaster Assistance. Assistance can include payments for temporary housing, essential home repair, medical expenses, and other transportation, childcare, or moving expenses.
Applications are accepted until March 16, 2023.
For online information on how to apply for relief, visit FEMA Disaster Assistance or download the FEMA mobile app.
Contact the FEMA Helpline at 800-621-3362 from 7 a.m. to 11 p.m. daily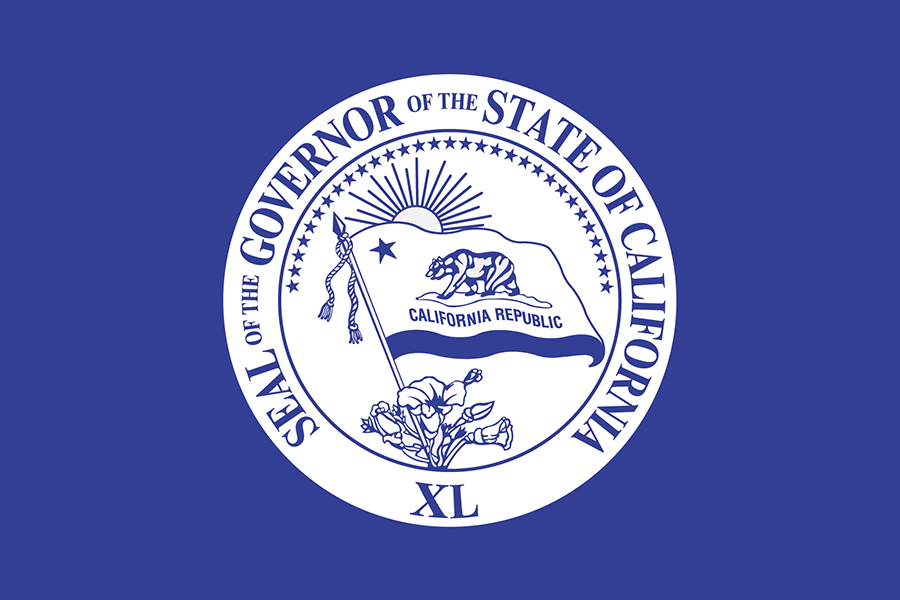 Section 1B: Gov. Newsom Requests Presidential Emergency Declaration
In response to the next wave of severe storms, Governor Newsom requested a Presidential Emergency Declaration authorizing federal assistance, including emergency generators, road clearance, shelter availability, and community care.
The full request can be found here.
Visit Cal Alerts to sign up for local wireless emergency alerts and QuickMap California to check road conditions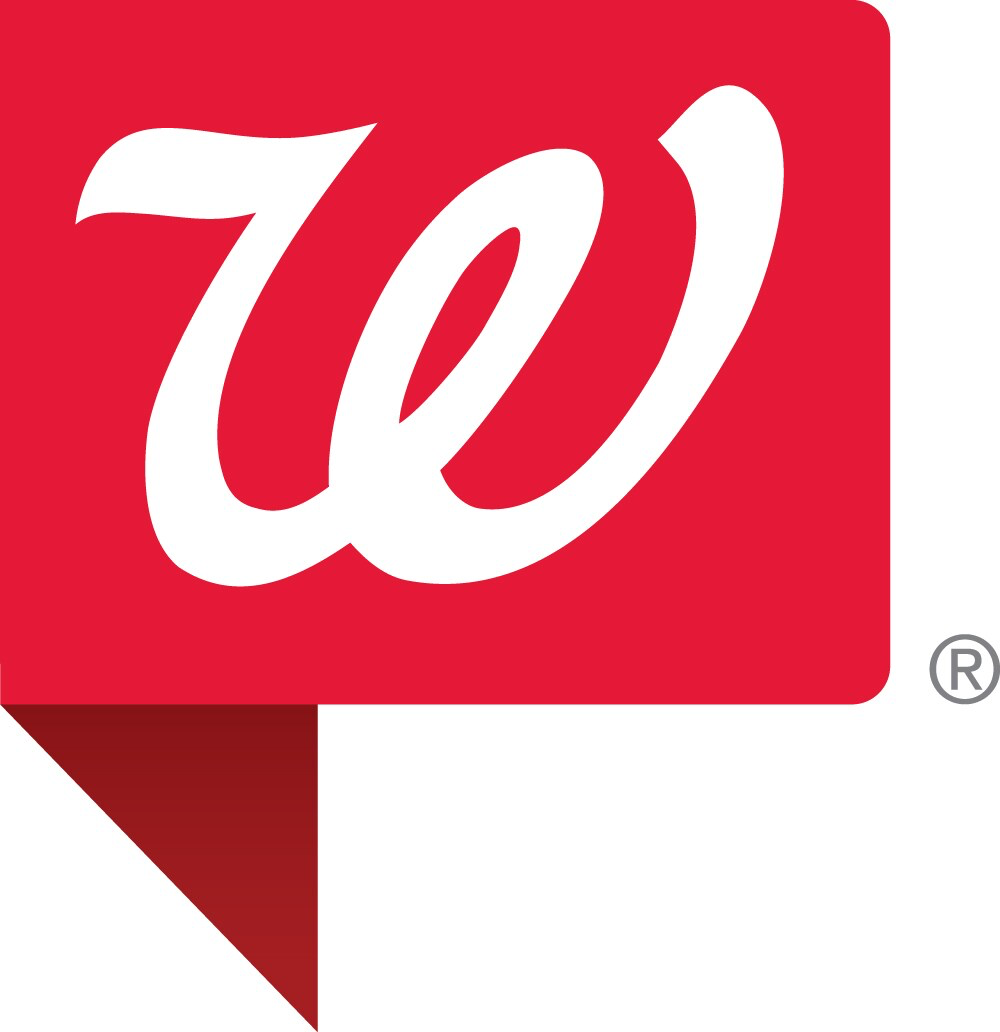 Section 1C: California Withdraws from Walgreens Contract
Gov. Newsom announced California will withdraw from a specialty prescription drug contract between the California Department of General Services and Walgreens, which would have begun May 1, 2023. This follows the company's decision to suspend the sale of Mifepristone, an abortion medication, in 21 states, even in states where abortion remains legal.
The approximately $54 million contract primarily served the California Department of Corrections and Rehabilitation's (CDCR) correctional health care system. Read the official announcement here.
---
Section 2: Winter Storm Resources
Section 2A: Red Cross Disaster Relief
As the potential for strong winds, heavy rains, and power outages continues through the weekend and into next week, the American Red Cross has mobilized resources and is collaborating with government and community partners to respond to this storm. Shelters, supplies, and personnel are either active or on standby to accommodate residents evacuated from their homes.
To find more information for open Red Cross and partner shelters, please visit redcross.org, the free Red Cross Emergency app or by calling 1-800-RED CROSS (800-733-2767).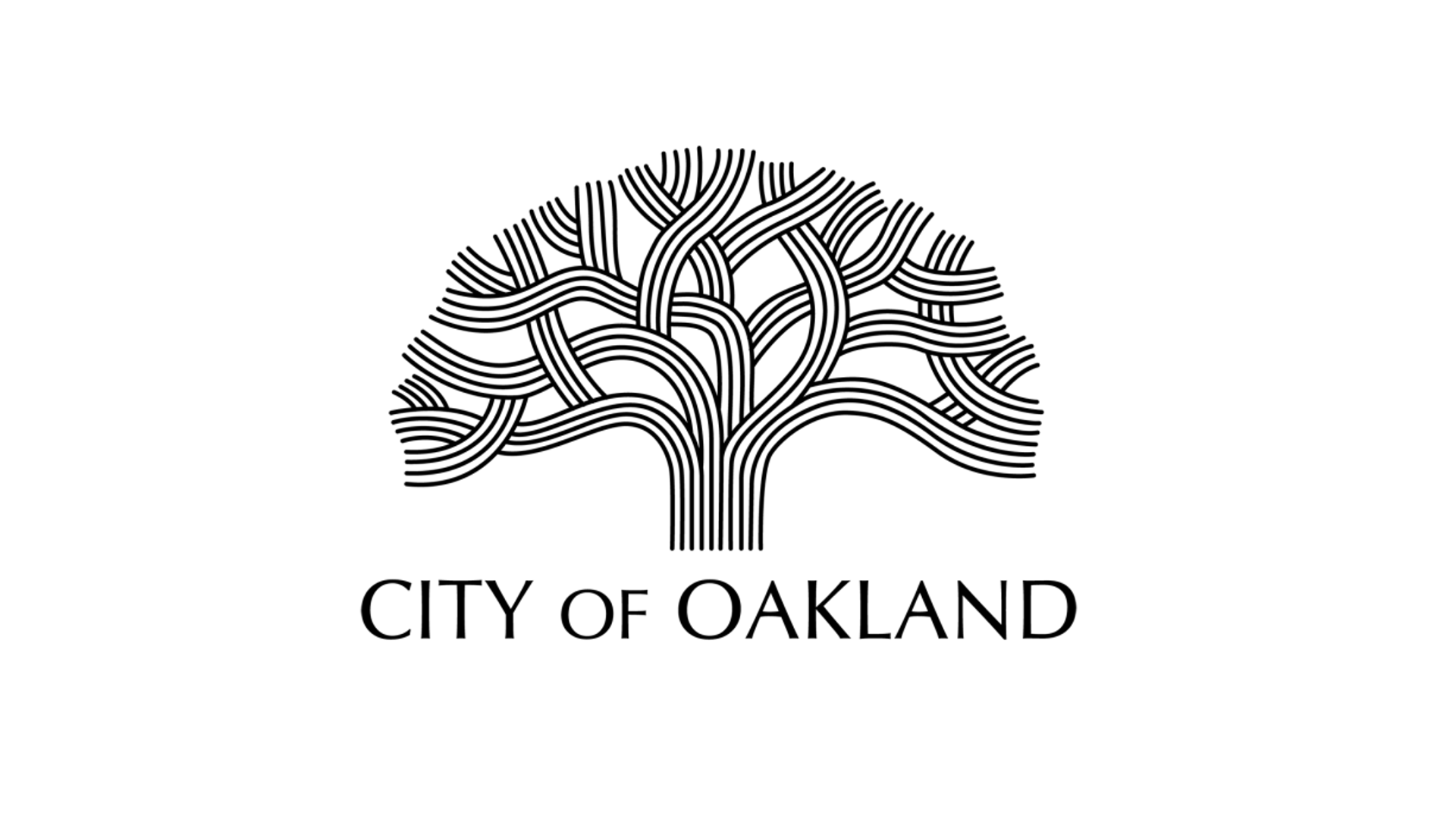 Section 2B: Oakland
The City of Oakland is preparing for additional flooding, debris flows, and fallen trees. City of Oakland Public Works (OPW) crews continue to work through a backlog of 311 (the recent rains have created a heightened need for resources) and will continue to prevent, mitigate, and respond to stormy weather impacts. We encourage all Adopt a Drain volunteers to help prevent flooding and its potential impacts by taking preparatory steps, such as raking away leaves from storm drains when safe to do so, using sandbags to redirect water from properties, and taking other necessary measures. Your volunteer efforts can go a long way in supporting Oakland and keeping our community safe during rainy weather.
For storm-related emergency issues on public property and in the public right-of-way (such as flooding, mudslides, landslides, and manholes overflowing onto streets and sidewalks),
Dial 311 from any phone within Oakland or dial (510) 615-5566
Stay updated about the winter storm here.
To find resources for residents and businesses, including food resources, shelter beds, and information on how to stay safe, please click here.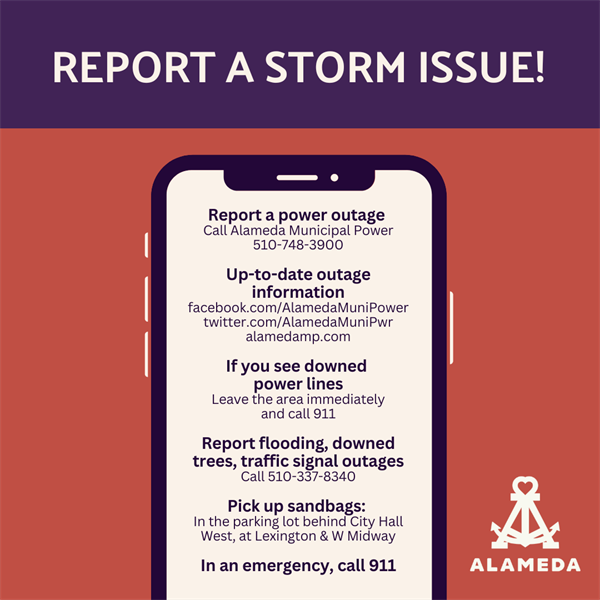 Section 2C: Alameda
The City of Alameda has activated three virtual Emergency Operations Centers and has resources available to the community as the need may arise. Stay updated by visiting Alameda Alerts or calling non-emergency support lines at (510) 337-8340 to report flooding and other needs.
Call 911 for life/safety emergencies.
Report storm issues directly to maintenance at (510)-747-7900.

Section 2D: Emeryville
The City of Emeryville's Public Works Department Maintenance Division is providing a self-fill sandbag station at the City's Corporation Yard location at 5890 Christie Avenue for Emeryville residents and businesses in need of sandbags. Call 9-1-1 for life-threatening emergencies or if you come across a downed tree or live wires; do not attempt to move any wires from the roadway or your property. Stay updated by visiting the City of Emeryville website.
Section 2E: Winter Storm Tax Filing Extension
California's Franchise Tax Board and the IRS announced extensions to the State and Federal tax filing deadline to October 16, 2023, for residents of Alameda County. The extension allows individuals and business entities time to recover from recent storms before paying or filing taxes from the current 2022 tax year. This includes:
Individuals whose tax returns and payments are due on April 18, 2023.
Quarterly estimated tax payments due January 17, 2023, April 18, 2023, June 15, 2023, and September 15, 2023.
Business entities whose tax returns are normally due on March 15 and April 18.
PTE Elective Tax payments are due on June 15, 2023.
For more information on state, tax extensions visit the Franchise Tax Board or the IRS federal tax extensions. County residents may be eligible to file for disaster deductions from the winter storms on state tax returns. To learn more on how to claim these losses click here.
---
Section 3: AD-18 Community Resources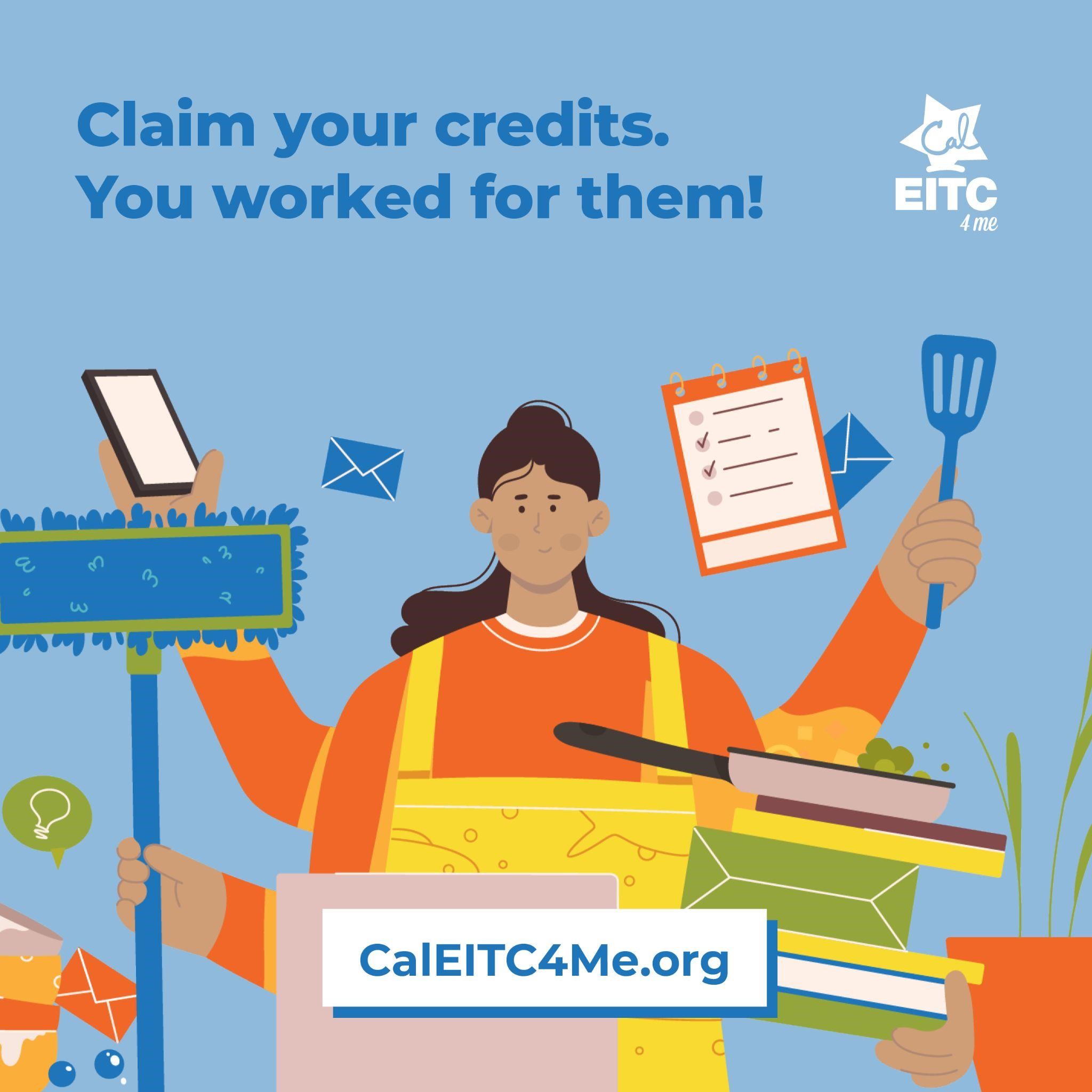 Section 3A: California's Earned Income Tax Credit
Low-income individuals and parents may be eligible for California's Earned Income Tax Credit — providing up to $3,417 in cash refunds or reductions in tax liability.
Visit CalEITC to see if you qualify, even without a social security number.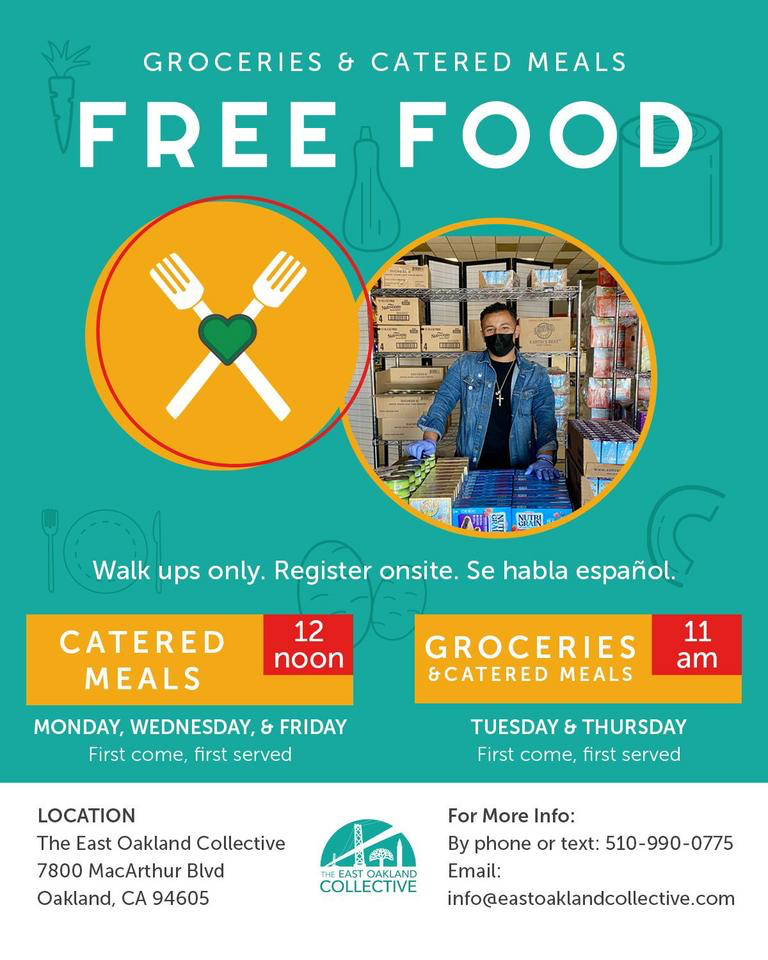 Section 3B: Food & Supply Distribution - Grocery Day
We understand that food insecurity has been a major concern for many people during these difficult times. We want to remind our readers that there are resources available to help address food insecurity in your area. Here is information about an upcoming food and supply distribution event that may be of interest to those who are struggling to access adequate food and other essentials.
The East Oakland Collective is distributing food and groceries throughout March and months to follow.
Where: 7800 MacArthur Blvd, Oakland, CA 94605
When: For a calendar of upcoming food & supply events, click here.
Walk-ups only. Registration is required and onsite. First come, first served. Priority line for seniors (65 or older), disabled and pregnant women.
Please share this information with anyone you know who may benefit from this event. Together, we can work to ensure that everyone in our community has access to the basic necessities of life.
Section 3C: Seminario web sobre el permiso familiar pagado (Paid Family Leave Webinar for Spanish Speakers)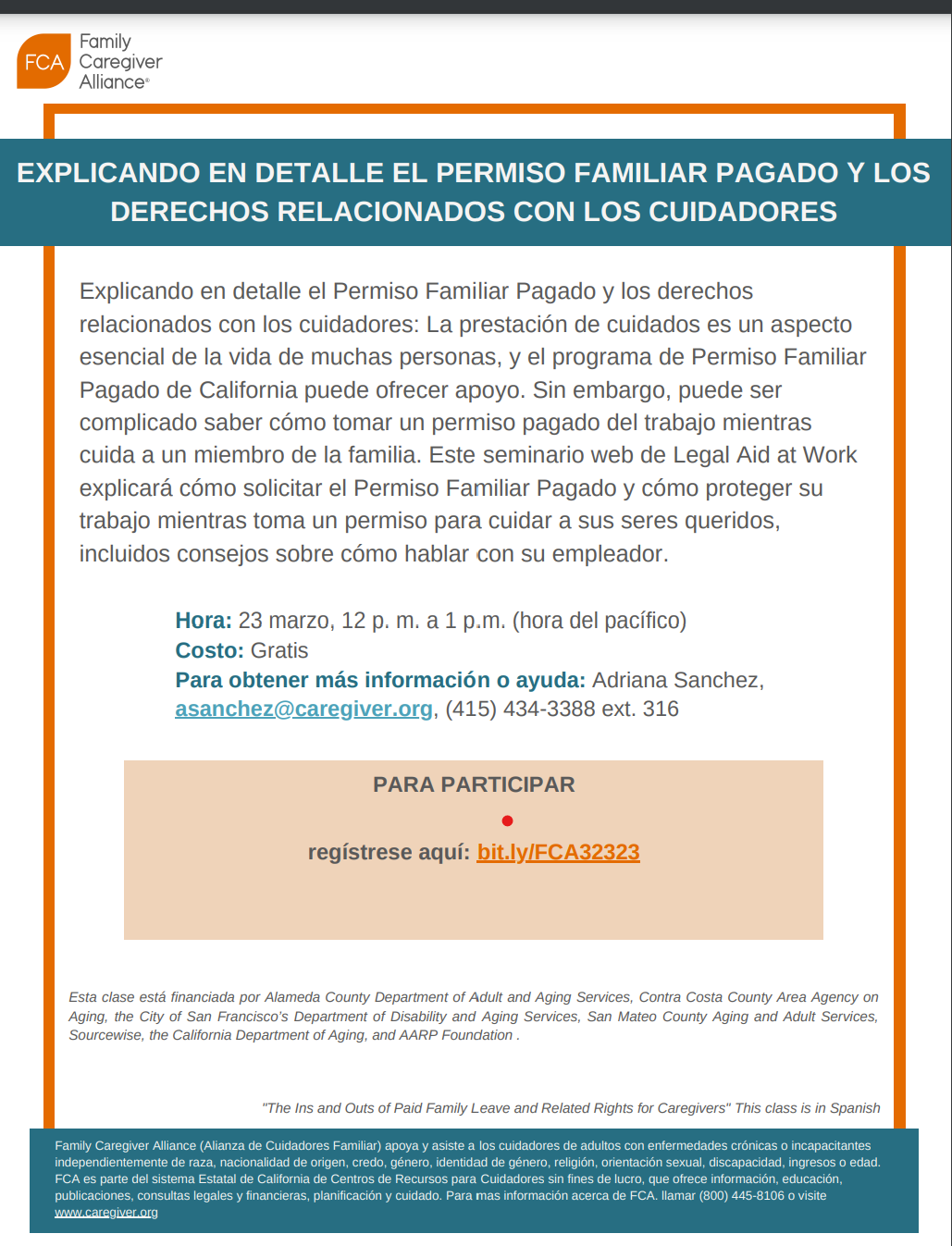 Este seminario web de Legal Aid at Work y Family Caregiver Alliance explicará cómo solicitar el Permiso Familiar Pagado y cómo proteger su trabajo mientras toma un permiso para cuidar a sus seres queridos. Incluso, este seminario incluye consejos sobre cómo hablar con su empleador.
This webinar from Legal Aid at Work will walk through how to apply for Paid Family Leave and how to protect your job while taking leave to care for your loved ones, including tips on how to speak to your employer.
When: March 23, 2023, 12p.m -1 p.m
Where: Para unirse a Zoom, registrar aqui.
To join Zoom, register here.
Para obtener más información o ayuda: Adriana Sanchez, asanchez@caregiver.org, (415) 434-3388 ext. 316
Section 3D: Tome Cargo! Planificación anticipada de Cuidados (Advance Care Planning for Spanish Speakers)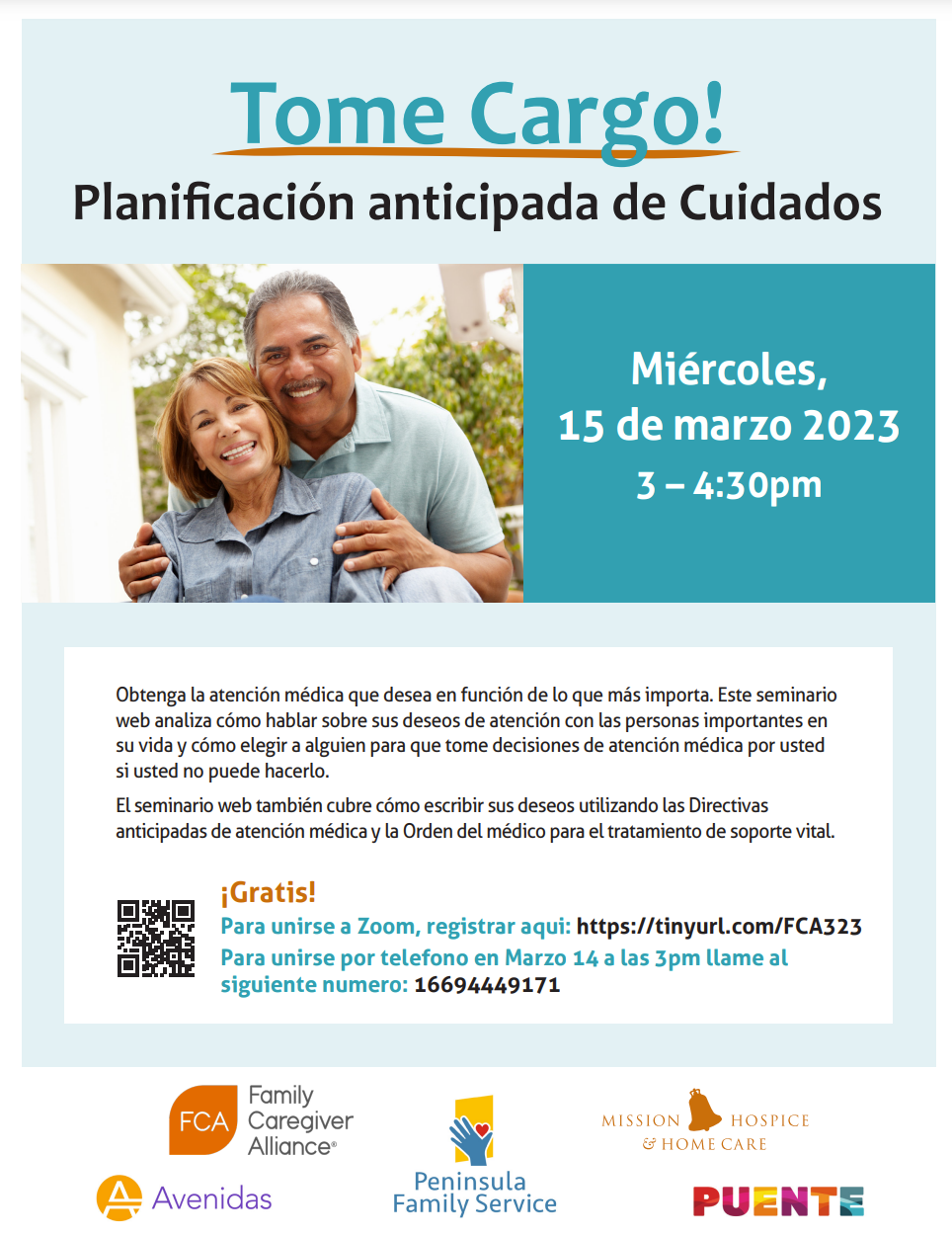 Este seminario web gratuito de Family Caregiver Alliance analiza cómo hablar sobre sus deseos de atención con las personas importantes en su vida y cómo elegir a alguien para que tome decisiones de atención médica por usted si usted no puede hacerlo. El seminario web también cubre cómo escribir sus deseos utilizando las Directivas anticipadas de atención médica y la Orden del médico para el tratamiento de soporte vital.
This webinar discusses how to discuss your care wishes with the important people in your life and how to choose someone to make healthcare decisions for you if you can't. The webinar also covers how to write your wishes using Advance Health Care Directives and Physician Orders for Life-Sustaining Treatment.
When: Miércoles, 15 de marzo, 3 a 4:30 p.m. (PT)
Wednesday, March 15, 2023, 3-4:30 p.m.
Where: Para unirse a Zoom, registrar aqui.
To join Zoom, register here.
Para unirse por teléfono en Marzo 15 a las 3pm llame al siguiente número: (669) 444-9171
To join by phone on March 15 at 3 pm call (669) 444-9171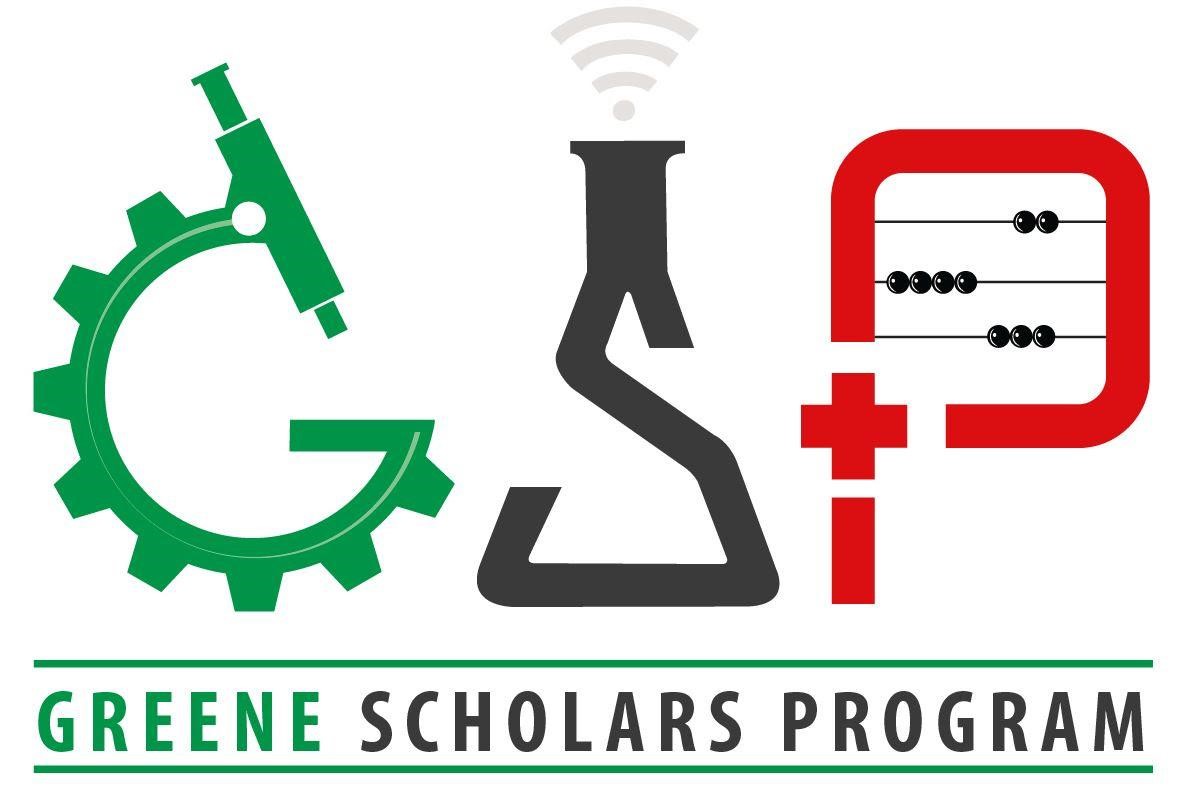 Section 3E: Greene Scholars Application Window Open
The Greene Scholars Program is designed to cultivate diversity in STEM careers and build STEM confidence and competence in the youth of African ancestry in grades 3rd - 12th.
Based in the heart of Silicon Valley, the Greene Scholars Program offers hands-on enrichment in science and math to equip students with the knowledge and skills they need to succeed in STEM fields. Through engaging and interactive activities, students will gain the confidence and competence to pursue their dreams and excel in STEM-related careers.
At the Greene Scholars Program, there is emphasis on the importance of diversity in STEM fields and strive to provide opportunities for all students, regardless of their background, to explore their interests in science and math. This program is tailored to meet the unique needs of students of African ancestry and is committed to supporting their academic and professional success.
For more information about the Greene Scholars Program, click here
The Greene Scholars Program is accepting applications for the 2023-2024 program year. The deadline is April 1, 2023, and application instructions can be found here.

S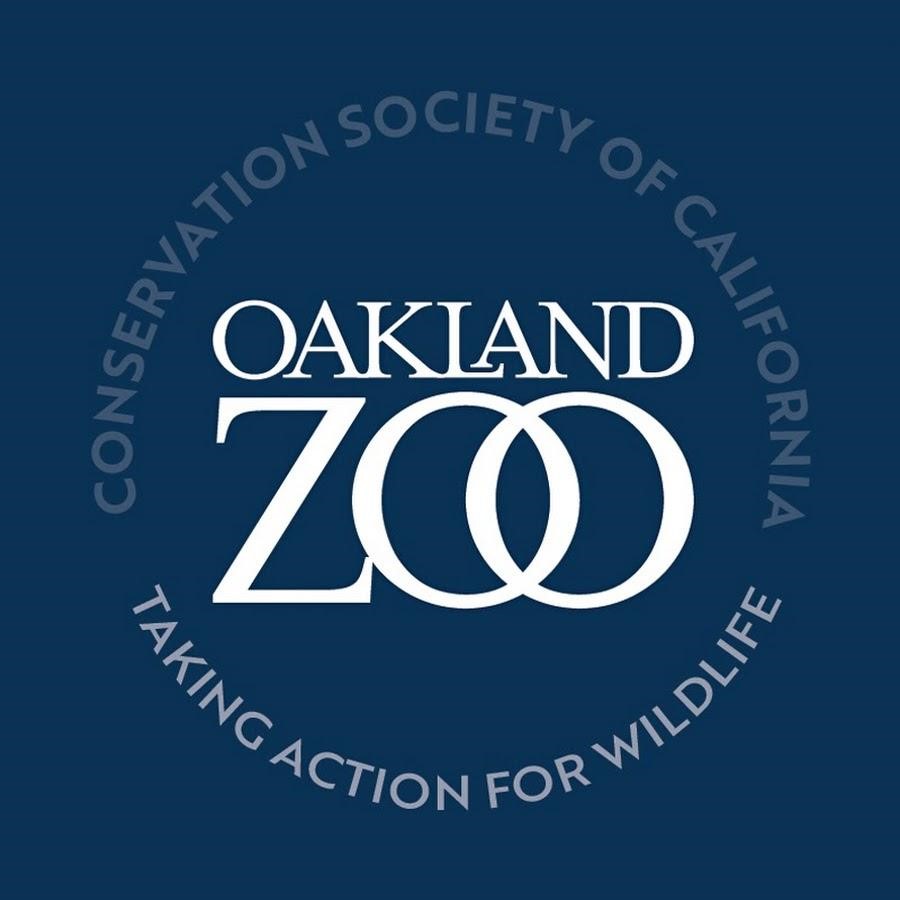 ection 3F: Oakland Residents Receive 25% Discount on Daytime Admission to the Oakland Zoo
This year all Oakland residents will receive a 25% discount on daytime admission to the Oakland Zoo. As a resident of this vibrant and diverse community, you have the opportunity to explore the wonders of the animal kingdom at a discounted rate. For more information and to receive this discount, please visit oaklandzoo.org/tickets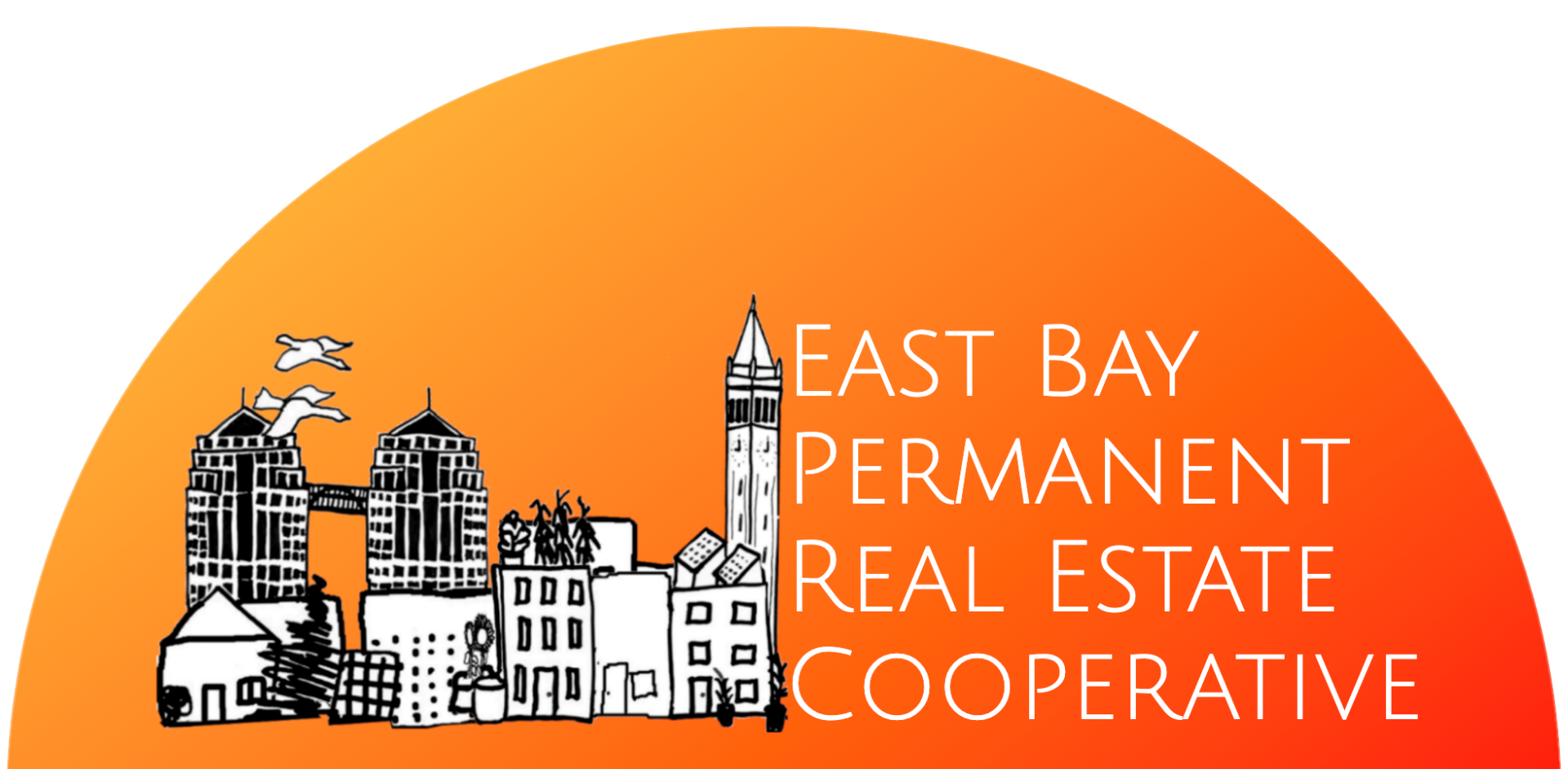 Section 3G: EB PREC - Supporting Communities in Property Ownership
"EB PREC aligns the technical, financial, and organizational inputs to support Black, Indigenous, People of Color, and allied communities to cooperatively organize, finance, purchase, and steward mixed-use and residential property in the East Bay."
At its core, EB PREC (East Bay Permanent Real Estate Cooperative) is dedicated to providing support and resources for communities to achieve property ownership and stewardship. By working cooperatively, community members can overcome barriers and achieve their goals of owning and maintaining mixed-use and residential properties.
The importance of property ownership and stewardship cannot be understated, particularly for communities that have historically been marginalized and excluded from these opportunities. EB PREC is working to change this by empowering communities and providing the tools they need to achieve their goals.
The work of EB PREC is inspiring and is having a positive impact on communities throughout East Bay. To learn more about the organization and how you can support its mission, and how it can support you, please visit the website at ebprec.org.
For information on upcoming events, please visit events.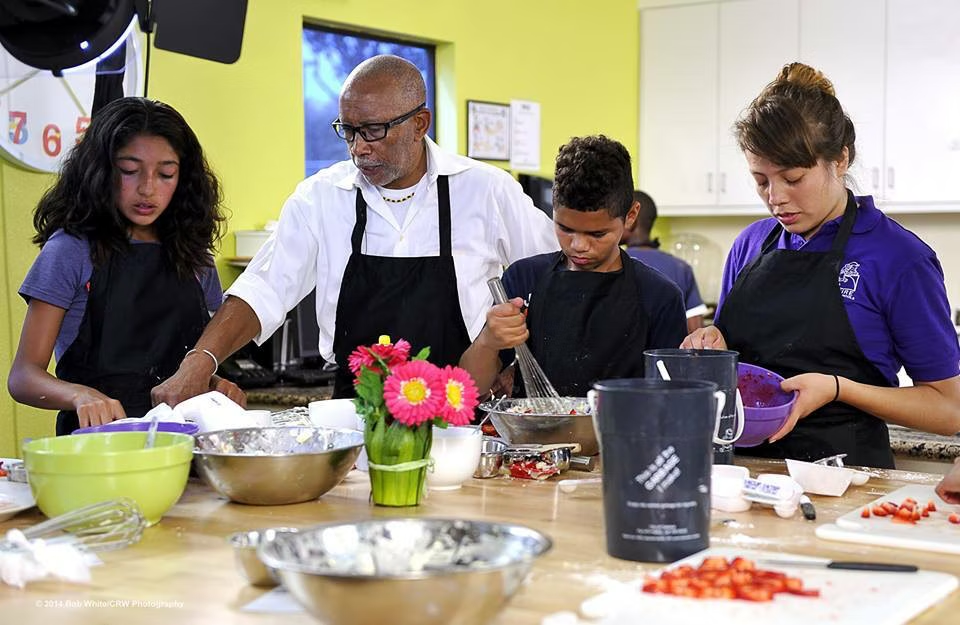 Section 3H: Oakland Direct Community Grant Program Application Extension
In response to technical outages, the City of Oakland has extended the deadline for the Direct Community Grant Program applications to Friday, March 17, 2023, at 5 p.m. The DCGP provides funding to community-based projects that promote solutions to issues like affordable housing, public safety, economic growth, and sustainable neighborhoods.
For more information on the program, visit DCGP.
---
Section 4: AD-18 Community Engagement Opportunities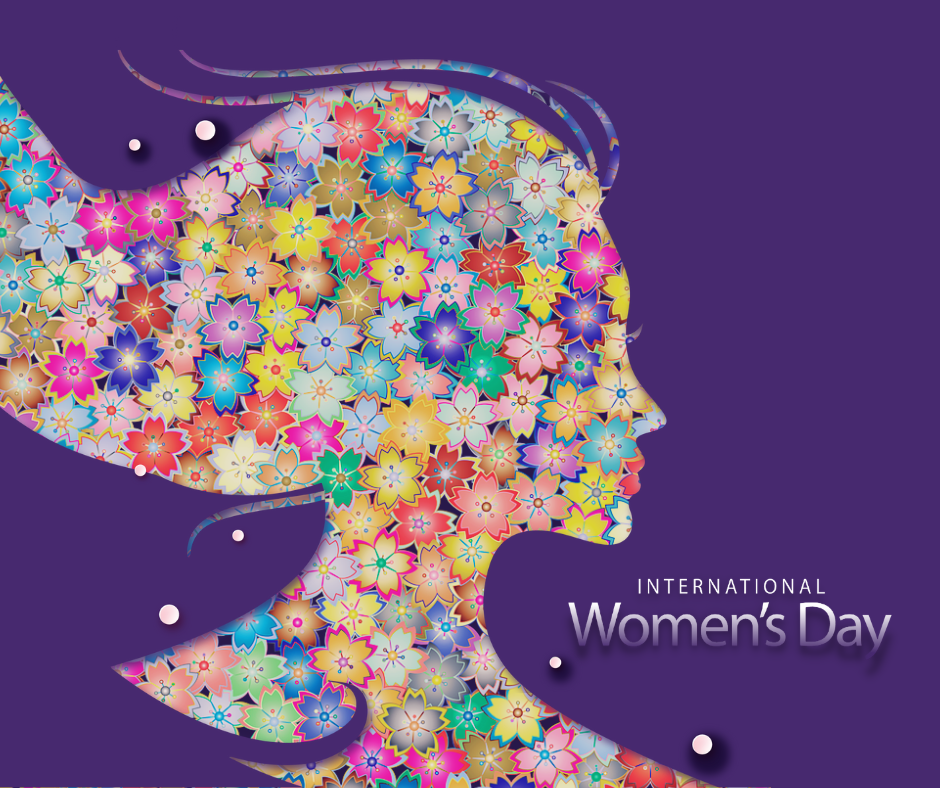 Section 4A: Celebrating Women's History Month in the East Bay - Come and participate in a unique dialogue about authenticity with Alameda Women Leaders
Last week on March 8th, we celebrated International Women's Day, a day to recognize the social, economic, cultural, and political achievements of women around the world. Although the day has passed, we continue to celebrate Women's History Month and honor the tremendous progress women have made. International Women's Day also calls us to raise awareness about discrimination and "take action to drive gender parity."
Part of that is encouraging women to express their authentic voices and be true to themselves. We encourage you to join us next month as part of our Alameda Women Leader's group event with Natalie Gelman.
When: Wednesday, Apr 5, 2023
Where: The Preacher's Daughter
1629 Park Street, Alameda
Fees/Admission: Members: $20.00 pp
Guests/nonmembers: $27.00 pp
To register and for more information on participating, please visit Alameda Women Leaders

Section 4B: Oakland Running Festival
The Oakland Running Festival, which includes the Oakland Marathon, Half Marathon, 10K, and 5K Run/Walk, takes place on Sunday, March 19, 2023. All races will start and finish at Snow Park by Harrison St and 19th St and will loop around large sections of Downtown, West Oakland, Lake Merritt, as well as other neighborhoods.
For more information click here or to register click here.
Where: Snow Park Harrison St, Oakland, CA 94612
When: Sunday, March
Section 4C: California Community Greening Project
Participate in Caltrans' 10-day "Spring into Action" event across the Bay Area as part of California's Clean California Community Days from March 17—27, 2023. The Clean California initiative encourages neighborhoods to unite through the beautification of community spaces and environmental protection. There are two events in Oakland:
Lake Merritt
The Community Greening Project includes live speakers, community tabling, and family entertainment to engage and educate Californians to build sustainable communities.
When: Saturday, March 25, 11 am – 2 pm
Location: Lake Merritt Amphitheater, Oakland, CA - Between 12th Street and 1st Ave
Columbia Garden Park
Support Oakland's Climate Communities Program by planting trees at Columbia Garden Park.
Where: Thursday, March 23, 10 am – 12 pm
When: Columbia Gardens Park - 9920 Empire Rd, Oakland, CA 94603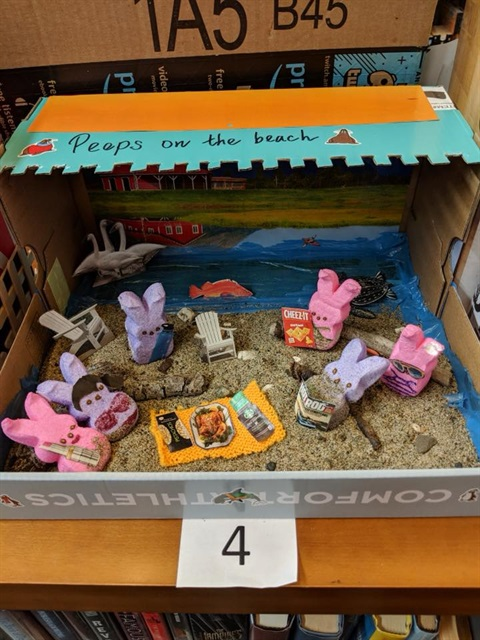 Section 4D: Alameda Library Peep Diorama Contest
The Alameda Library is hosting its annual diorama contest, featuring Peep marshmallow characters. Dioramas should be the size of a shoebox and use recycled materials, magazines, paint, pipe cleaners, and other craft supplies.
Starting April 6, you can pick up a free Peeps Diorama Kit with craft supplies at the Main Library's Reference Desk on the 2nd Floor. Supplies are limited but you can enter the contest using your own supplies as well. Peeps in the Kit are not edible.
For more information click here.
Drop off your Peeps Diorama at the Main Library or submit a photo of your Peeps Diorama to refdesk@alamedaca.gov by April 16.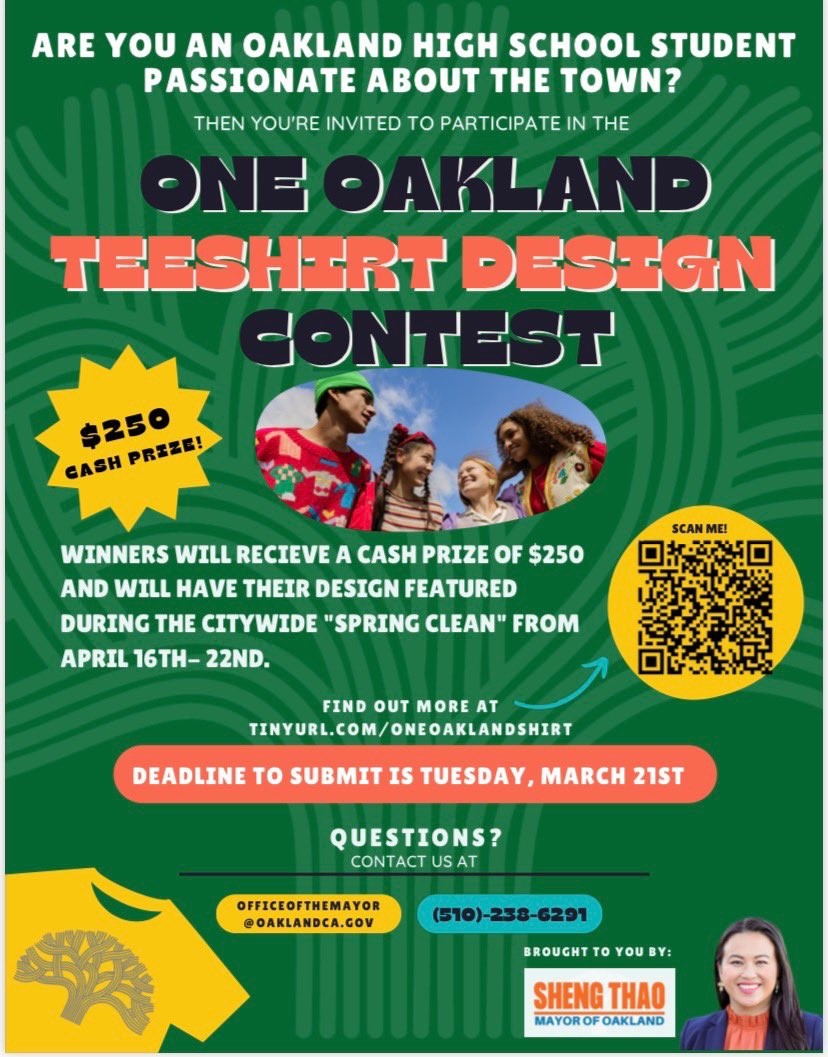 Section 4E: One Oakland T-Shirt Design Contest
Oakland High School students are invited to participate in the One Oakland T-Shirt Design Contest. Contestants design a t-shirt including the theme question: "what makes your Oakland beautiful?" Design must have One Oakland wording and include the dates April 16th-22nd, 2023. The deadline to submit is Tuesday, March 21st, 2023, and the results will be posted Friday, March 25th, 2023. The winner will receive a $250 cash prize.
For more information click here or email officeofthemayor@oaklandca.go.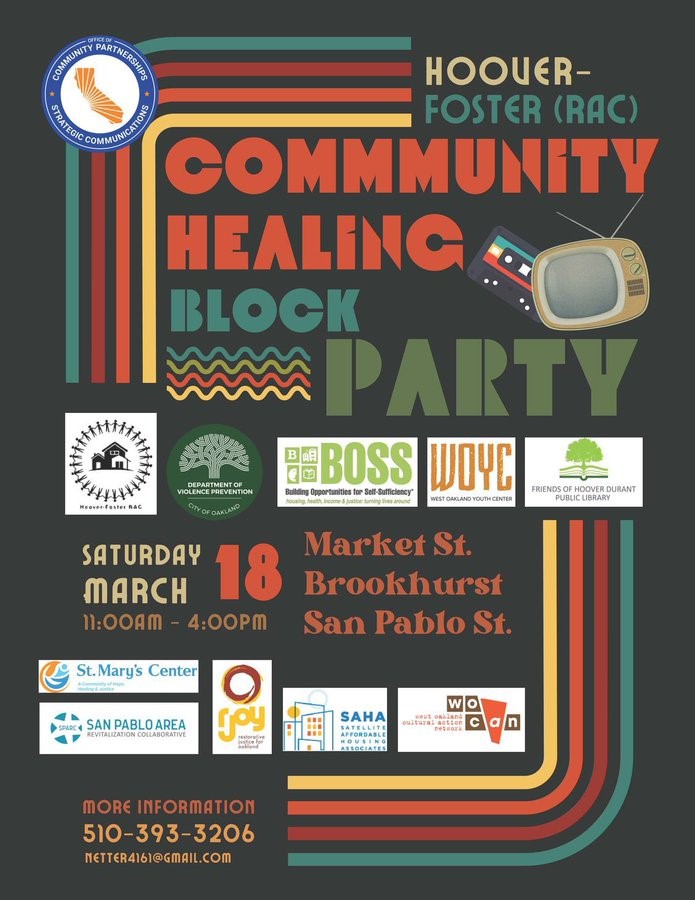 Section 4F: Hoover-Foster (RAC) Community Healing Block Party
A block party focused on community healing and self-care.
When: March 18, 11 a.m. – 4 p.m.
Where: Market St. – Brockhurst St. – San Pablo Ave.
Oakland, CA 94608