Dear Friend,
Spring has sprung and there's much to do! I hope you have the opportunity to take time and enjoy the incredible weather and upcoming community gatherings across AD-18. I am delighted by the amazing work happening in the East Bay and at the Capitol in Sacramento. This spring, I am honored to have the opportunity to continue fighting for working families to help create a brighter California for our children.
In this legislative session, you spoke, and I listened. It's my privilege to represent the 18th Assembly District by bringing forward legislation focused on our community's needs. I have a robust bill package that will work to uplift our students, early childcare providers, and healthcare professionals, and address systemic inequities in the State of California. This spring marks an opportunity to make real change and I look forward to building a more progressive future for our children and families.
In this newsletter, you will find some amazing opportunities to help uplift our young people, please share them with friends and family.
Yours in Service,

Mia Bonta
Assemblymember, 18th District
---
In this newsletter, you'll find the following information:
Alameda / Alameda County Traffic Advisory
College Opportunities & Scholarships
Arts and Creative Youth Programs

---
Assemblymember Mia Bonta & staff are committed to keeping AD-18 residents fully engaged and informed.
Please send this newsletter to a friend and subscribe!
Stay connected with our office, follow us on social media:
Twitter

 Instagram

 and Facebook

 or Email Me, (510)286-1670
---
Section 1: Alameda / Alameda County Traffic Advisory
Section 1A: Webster Tube Closed

Alameda / Alameda County — The Webster Tube (State Route 61) will be closed overnight on Wednesday, April 19 for maintenance work.
The tube will close at 10 p.m. April 19 and reopen at 4:30 a.m. the following morning. The Webster and Posey tubes connect the cities of Alameda and Oakland. The Webster Tube will remain open.
The Webster tube will remain open in the daytime. The closure is overnight only.
Detours will be in place at the Webster Tube and California Highway Patrol officers will be in place to assist motorists.
---
Section 2: College Opportunities & Scholarships
Section 2A: African American Leaders for Tomorrow Program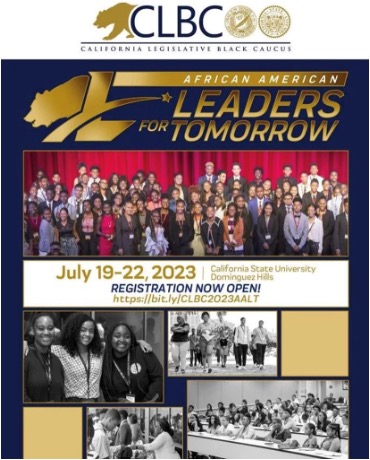 The California Legislative Black Caucus is now accepting applications for its annual African American Leaders for Tomorrow (AALT) program!
The AALT is a 4-day residential leadership and advocacy initiative program and is a unique opportunity for high school sophomores and juniors to gain college experience, learn more about the legislative process, and gain valuable leadership skills. This program aims to help prepare the next generation of leaders in the African American community!
Students are hand-selected and receive leadership training, and attend workshops on topics such as civic engagement and the legislative process. This year, participants will stay on campus at California State University, Dominguez Hills (CSUDH), and housing, meals, program materials, and transportation will be provided at no cost to the participants.
We encourage you to spread the word and take advantage of this exciting opportunity for our youth!
When: July 19 - 22, 2023
Applications are due May 15, 2023. To submit an application, please click here.
For questions or more information, please email cablackcaucus@gmail.com
---
Section 2B: Congressional Black Caucus Scholarships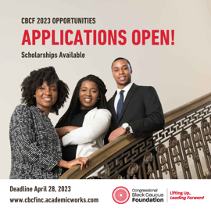 The Congressional Black Caucus Foundation and the Congressional Black Spouses are offering more than 300 scholarships to current and future college students displaying leadership, a dedication to serving the community, and academic passion. Scholarships include:
The Ally Financial Public Policy Scholarship – for African American students pursuing an undergraduate degree in public policy. Sponsored by Ally Financial.
The Ally Financial Law Scholarship – for African American students pursuing a career in law
CBC Spouses Education Scholarship – for academically motivated undergraduate, graduate and doctoral students in a variety of fields.
Applications due April 28, 2023. To apply, or view other scholarship opportunities, visit CBCF.
---
Section 2C: Women in California Leadership Foundation - Minerva Scholarship
The Women in California Leadership Foundation (WICL) is now accepting applications for this year's scholarships! These scholarships are designed to support women who are pursuing higher education in order to help them achieve their educational goals.
Scholarships include up to 108 one-time $3,000 winners, and one $10,000 Golden Minerva Scholarship winner. Winners will be announced on July 1, 2023.
In order to be eligible for scholarship consideration, students must meet the following requirements:
All California residents may apply and will be considered
Applicants must be enrolled full-time in an accredited college for the 2023-2024 academic year
Minimum GPA of 2.5
Self-identify as female
Applications due 11:59 PM on May 31, 2023 (Paper and late applications will NOT be accepted).
For more information and to apply, please visit WICL.
Questions and comments concerning the scholarship program can be sent to heather@wicl.us
---
Section 2D: Highschool Paid Internship with the Bay Area Summer Academy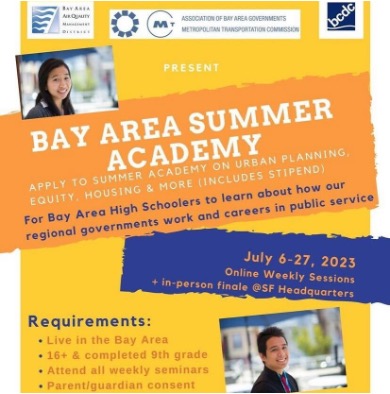 Bay Area high school students are encouraged to apply for the Norman Mineta Bay Area Summer Academy, a four-week paid internship with MTC, the Association of Bay Area Governments, the Bay Conservation and Development Commission, and the Bay Area Air Quality Management District.
Over the course of four weeks, beginning July 6, 2023, students will learn how regional agencies deal with various issues, including environmental justice, housing and transportation equity and community health. Students are encouraged to apply before the April 17, 2023, deadline.
Enrollment is limited, and selections will emphasize a diversity of perspectives from students across the Bay Area. Grade point averages are not considered. Requirements:
Live and attend high school in the Bay Area.
Be at least 16 years old.
Have completed ninth grade by July 2023.
Be able to attend online sessions and present on a topic related to the seminars.
If the student us under 18, have the permission of a parent or guardian to participate.
Applications due before April 17, 2023  submitted here.
For more information and to apply, please visit MTC.
Questions and comments concerning the scholarship program can
requested at (415) 778 - 5331
---
Section 3: Opportunities for Artistic Youth
Section 3A: 2023 Congressional Art Competition

The U.S. House of Representatives is once again sponsoring The Artistic Discovery Contest, and Oakland Unified School District's (OUSD) Visual & Performing Arts Office is inviting all OUSD high school students to participate!
This contest is an annual competition that provides an opportunity for high school students to showcase their artistic talents and creativity. The Artistic Discovery Contest is open to all high school students in the 12th District. The over-all winner of our district's competition will be displayed for one year in the U.S. Capitol, where it will be viewed by thousands - millions of people.
We encourage all high school students in Oakland that would like to showcase their artistic talents to participate in this exciting competition.
Now accepting submissions. The deadline for all applications is April 24, 2023.
For rules, regulations, and how to enter, please visit Art&App.
---
Section 3B: Oakland Unified Summer Music Camp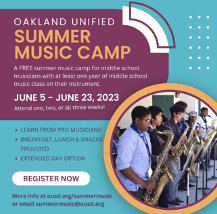 Oakland Unified School District will be offering a free 2-3 week long summer music camp for current Oakland middle school music students who have successfully completed at least 1 year of middle school music. Participants will have the opportunity to learn from professional musicians and participate in a variety of rehearsals and performances. This program is designed to provide a fun and supportive environment for students to explore their musical interests, learn new skills, and connect with other young musicians in the Oakland community.
When: June 5 - 23, 2023 (Attend one, two, or all three weeks)
To register and for more information, please click here.