Dear Friend,
Happy Women's History Month! It is my hope that we are all able to take some time out of our schedules to honor the women in our lives. We know that women have served as true advocates of progressive change for many generations. Women across the world have fought for the right to vote and to serve in the same capacity as their male counterparts as lawyers, healthcare professionals, elected officials and more. This work has helped advance many of these vocations forward, and we want to celebrate this achievement!
I acknowledge that 31 days is not enough to truly uplift the accomplishments of women dedicated to serving their families and communities both locally and globally. I'm so delighted to have had the opportunity to celebrate a few local leaders right here in Assembly District 18. My selection for Women of the Year is LaNiece Jones, Oakland's very own. LaNiece has successfully designed programs, events, and initiatives to increase the efficacy and productivity of social businesses, social enterprises and community organizations. She has worked to support Black women to be authentic leaders and has built coalitions to empower our community for economic success. LaNiece is an inspiration for all of us desiring to step into leadership roles.
Here, in the California State Legislature, I'm honored to be surrounded by courageous women working hard to move the State forward with progressive legislation. Please stay engaged with our office as we start to roll out some of my legislative packages in the coming weeks. In case you missed some of these updates, please visit my website.
Yours in Service,

Mia Bonta
Assemblymember, 18th District
---
In this newsletter, you'll find the following information:
State of California Updates
Response to COVID-19 (Testing & Vaccination Locations)
Celebrating Women's History Month in the East Bay
AD-18 Community Resources and Community Engagement Opportunities
Assemblymember Mia Bonta & staff are committed to keeping AD-18 residents fully engaged and informed.
Please send this newsletter to a friend and subscribe!
Stay connected with our office, follow us on social media:
Twitter Instagram and Facebook or Email Us, (510) 286-1670
---
State of California Updates
Section 1A: Chief Justice Rescinds Statewide COVID-19 Emergency Orders Provisions Effective April 30
The following emergency orders for the state courts on COVID protocols will be rescinded on April 30:
Allow courts to extend the time to hold a preliminary hearing in a criminal case to 30 days.
Allow courts to extend the time to bring civil cases to trial, by up to 60 days.
Suspend any California Rule Of Court that prevents using technology to conduct judicial proceedings and court operations remotely.
Allow Courts to immediately adopt proposed local rules or amendments that address the impact of the pandemic, without advance circulation for 45 days of public comment.
The Judicial Council will also sunset emergency rules on June 30. These include:
Remote criminal proceedings and personal appearance waivers by criminal defendants.
Priority for certain juvenile proceedings.
Deadlines to file a civil action or bring a civil case to trial.
Section 1B: California State of the State Address on March 8
Governor Newsom's State of the State address was held on Tuesday, March 8. Among some of the topics discussed:
The new phase of California COVID-19 response.
Reaffirmed California's stance for democracy worldwide and within the country, including the state's support of Ukraine.
California's leadership in climate policy.
The strength of California's economy.
California's efforts to support families & healthcare.
New plans to address homelessness, including the CARE Court.
Please view the recording here.
---
East Bay New Vaccination Mandates & Mask Requirements
Section 2A: Updates on Mask Requirements
Masks are no longer required indoors in California, with a few exceptions. But they are still strongly recommended.
Areas where masks are still required are public transit and in stations, terminals and airports, healthcare settings, emergency shelters, cooling and heating centers, state and local correctional facilities, detention centers, homeless shelters, long-term care settings, and adult and senior care facilities.
Masks are strongly recommended for everyone in indoor public settings (including K-12 schools and daycare), retail, restaurants, theaters, family entertainment centers, meetings, and state and local government offices that serve the public.
To learn more about California's current mask recommendations and requirements, please visit California for All.
Please get vaccinated and boosted. 
Create your digital Covid-19 record.
Find other testing site locations in Alameda County.
Section 2B: How to Order Free COVID-19 Tests by Phone
The Biden administration has launched a hotline to order COVID-19 tests. Callers can place orders in multiple languages, including English, Spanish and Chinese from 8 a.m. to midnight Eastern time. Call 1-800-232-0233 (TTY 1-888-720-7489).
---
Celebrating Women's History Month in the East Bay
(Section 3A): Women in Tech Conference
Are you a woman of color in tech working in an environment where you feel isolated and disconfirming? Join tech intersection's affordable and upcoming conference! Tech Intersection's Women in Tech conference will allow you to meet with other women of color in tech to learn about their accomplishments, challenges, and experiences.
When: Saturday, March 26
Where: Mills College
500 MacArthur Blvd
Oakland, CA 94613
Register and buy tickets here.
---
(Section 3B): Women's Entrepreneurial Symposium
Are you a current or aspiring inventor or entrepreneur? Would you like to learn from successful innovators and subject matter experts about keys to success and how to use your creativity to reach your full potential? If so, be sure to check out the 2022 three-part virtual Women's Entrepreneurship Symposium (WES) during Women's History Month. Don't miss these great opportunities to be inspired and informed!
Learn more and register for the March 30 WES event Part Three, From Inspiration to Commercialization.
---
(Section 3C): Women-Owned Small Business Federal Contracting Program
In response to the gender gap in nationwide funding in the form of traditional business loans, the United States Small Business Administration (SBA) created the Women-Owned Small Business Federal Contracting Program (WOSB) to support women-owned businesses. The WOSB provides federal contracts across a wide range of industries, including construction, automotive shops, food, beauty salons and independent artists.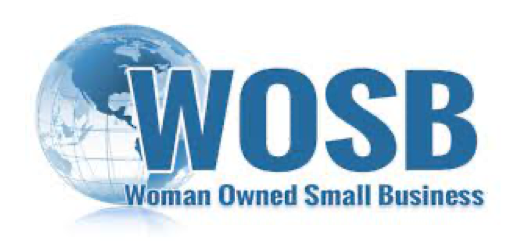 To see if your business qualifies, please visit SBA Size Standards.
To apply for a small business federal contract, you will first need to provide a DUNS number and register at SAM.gov. Once you have registered, you can apply at certify.SBA.gov.
---
Section 3D: League of Women Voters Eden Area Program on Women's History

Speaker Molly MacGregor, founder of National Women's History Alliance, will present a history of women's suffrage in California and the Eden Area. She will also highlight several women leaders in the Eden Area. The League of Women Voters is a nonpartisan political organization that encourages government education and participation.
When: Monday, March 21, at 7 p.m. over Zoom
Register for the event here.
---
Section 3E: Celebrating Women's History at the San Leandro Library

A forum of female nonprofit leaders! Join the San Leandro Public Library for a panel of women nonprofit leaders in the city. Each panelist will share what their nonprofit does and have a Q&A session.
When: Thursday, March 24 from 6:30 - 7:45 p.m.
Where: San Leandro Main Library Lecture Hall
300 Estudillo Ave
San Leandro, CA 94577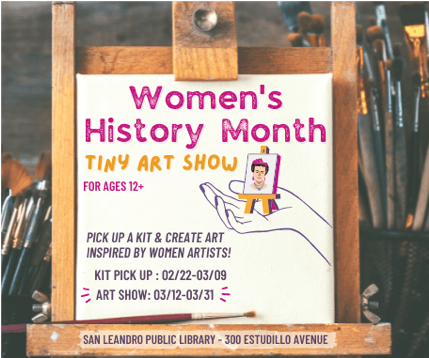 Tiny Art Show! The San Leandro community was able to create works for a tiny art show hosted by the library in honor of Women's History Month. The pieces will be on display through the end of the month
When: March 12 - 31
Where: San Leandro Main Library Lecture Hall
300 Estudillo Ave
San Leandro, CA 94577
---
AD-18 Community Resources & Community Engagement Opportunities
San Leandro
(Section 4A): SL Library Workshop Series on Resilience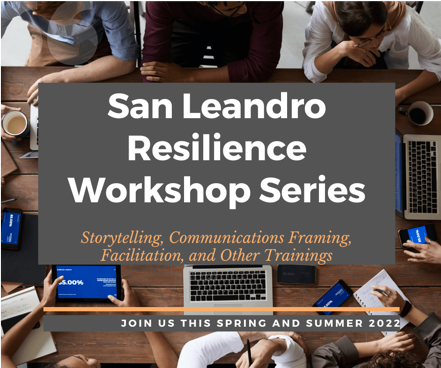 The San Leandro Public Library is hosting a series of community workshops on climate change resilience this spring and summer.
March Workshop:
When: March 28, 6:30 – 8 .pm.
Registration: See here
(Section 4B): San Leandro Residents Will be Switched to East Bay Community Energy's Renewable 100 Energy Plan

As per the June 2021 City Council vote, SL residents' default energy plan will become EBCE's 100% renewable energy sources plan starting March 2022. Commercial customers' energy plans will switch to the new default in October 2022. This change will increase energy bills by $5 per month for a typical home. Residents can opt out and remain on the EBCE Bright Choice plan through the EBCE website. Read more here.
---
Oakland
(Section 4C): Oakland 2045 General Plan Resources and Updates
Once approved in 2025, Oakland's 2045 General Plan will guide the development of the City for the following two decades. The Oakland 2045 General Plan will craft a new direction for the future of Oakland, one focused on creating an equitable and just city.
The Planning & Building Department oversees the regulations for the City's growth and development. Through reviewing project plans, enforcing local ordinances, developing neighborhood plans, and responding to public concerns, we work to create a built environment that supports the health and welfare of all Oaklanders.
March Events Overview:
There will be a number of community events happening in March to weigh in and learn more about the General Plan Update!
For more information and to find out how to get involved, please visit the General Plan Update website
---
(Section 4D): Keys to Equity - Building ADUs in Oakland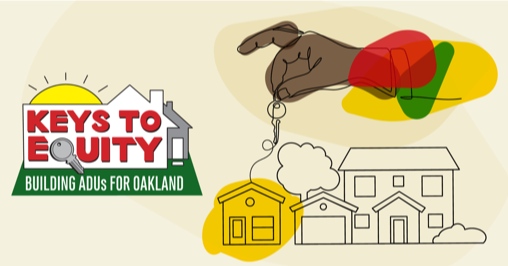 The Keys to Equity program in Oakland was developed to help streamline and simplify the process for building an Accessory Dwelling Unit (ADU) by helping with permitting, construction and finance. It aims to increase housing in areas at risk of greater displacement and to expand access to wealth building for homeowners, focusing on Black homeowners. Enrollment is open until April 18, 2022. Read more here.
---
(Section 4E): Oakland Parks, Recreation, and Youth Development is Hiring!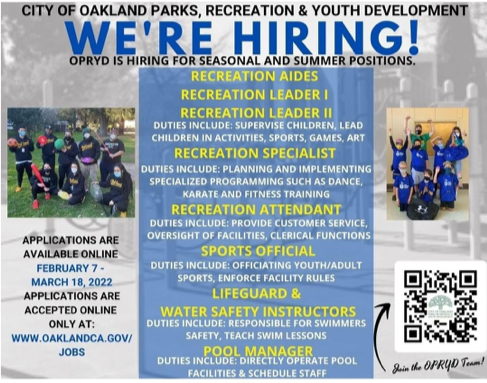 OPRYD is hiring part-time summer workers. The application has been extended from March 18 until March 25. Positions:
Recreation Aides & Leaders
Recreation Specialists
Recreation Attendant
Sports Officials
Lifeguard & Water Safety Instructor
---
(Section 4F): Oakland One-Stop Permit Center is Back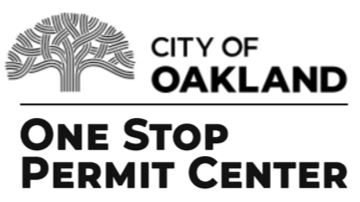 Oakland is reopening its one-stop permit center with a three-department, appointment-only permitting service.
Where: Second floor of 250 Frank H. Ogawa Plaza.
Planning & Building Dept:
Phone:
Zoning/Planning Bureau: (510) 238-3911
Building Bureau: (510) 238-3891
Building Inspections: (510) 238-3444
Services: All initial permit worksheets must be submitted through the Online Permit Center
Planning/zoning-related questions
Building-related questions
Plan/check-related questions
Pay/discuss fee(s) with the Cashier
Reserve a self-service computer workstation onsite
Oakland Fire:
Phone: (510) 238-3462
Services:
Vegetation Management Meeting
Occupancy Permit Meeting
Mobile Food Truck Permit Application Meeting
Special Event Permit Application Meeting
Submit Payment
Transportation/OakDOT:
Services: Permits can still be submitted online as well
Curb, Gutter, & Sidewalk Permit
Traffic Control Plan Permit
Obstruction Permit
Sewer Lateral & Minor Excavation Permits
Utility & Telecom Permits
Pre-Application Meetings
And more!
Visit the general city website for more information on COVID policies and specifics.
---
(Section 4G): Pet Assistance and Support Program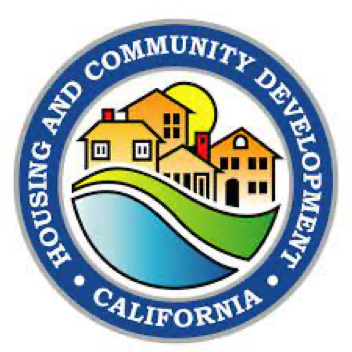 The California Department of Housing and Community Development has announced the release of the Notice of Funding Availability (NOFA) for approximately $10 million for Pet Assistance and Support (PAS) Program funds.
These grants allow homeless shelters to provide shelter, pet food and supplies, and basic veterinary services for pets owned by individuals experiencing homelessness, along with staffing and liability insurance related to providing those services.
Applications are due April 8, 2022, by 5 p.m.
View PAS Program NOFA webinar here
---
(Section 4H): Free Oakland Tax Assistance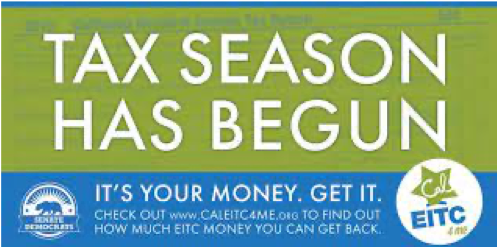 If your household earned income was $66K or less in 2021, get no-cost tax preparation assistance with the City of Oakland's Tax Assistance program. Get help online or schedule a drop-off appointment online or by calling 510-238-4911, or going to the city's Volunteer Income Tax Assistance / VITA site at Oakland Downtown Senior Center at 200 Grand Ave.
---
(Section 4I): NAACP Fellowship to Ghana Opportunity
The Amos C. Brown Student Fellowship to Ghana is the first-of-its-kind program powered by the NAACP, in collaboration with the Church of Jesus Christ of Latter-Day Saints, and will provide a multicultural group of students the opportunity to travel to Ghana, West Africa, for an immersive, all expenses paid trip.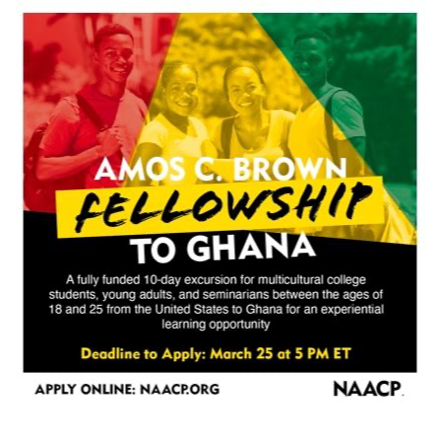 The 10-day excursion will take a select number of college students, young adults, and seminarians between the ages of 18 and 25 from the United States to Ghana for an experiential learning opportunity. Fellows will build bridges with Ghanaian counterparts, as well as understand and form a deeper appreciation of the history of Ghana as the oldest independent African state, and in doing so, become ambassadors for social and racial justice.
Spaces are limited. Interested young people are encouraged to apply by March 25, 2022.
---
(Section 4J): SPUR Makes Programs Free to the Public

SPUR is a Bay Area nonprofit public policy organization that works to bring people together to solve big city problems. They are a leading civic planning organization that takes a holistic approach to solving urban issues such as housing, transportation, land use, economics, food access, sustainability, governance, and resilience. Oakland is one of their policy centers, along with San Francisco and San Jose, where they focus on doing deep work that has a widespread impact on the rest of the Bay Area. Starting this March, they are opening their programming and events to free public access. Access their calendar for events like forums and tours.
Upcoming March Lunchtime Forums:
March 21, 12:30-1:30 p.m.: Bridging the Gap
March 24, 12:30-1:30 p.m.: The California Legislature's 2022 Housing Agenda
March 29, 12:30-1:30 p.m.: A Hands-On Exploration of the Bay Area Parking Census
March 31, 12:30-1:30 p.m.: Eliminating Barriers to Common-Sense Transportation Projects
---
Alameda
(Section 4K): Alameda Restaurant Week 2022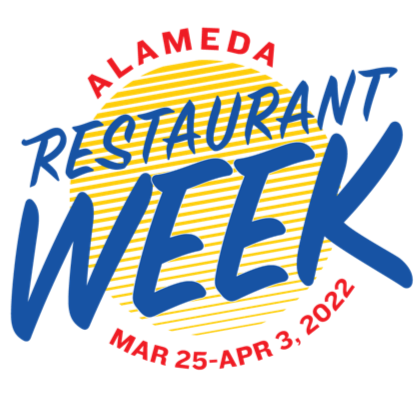 Dozens of local eateries to try and try again! Join us March 25 – April 3, 2022 for a ten-day event celebrating the culinary delights of Alameda Island. Alameda Restaurant Week will be back for a 5th year with more than 40 participating restaurants and bars participating throughout our island city.
To register for this event, please click here.