Dear Community,
I am excited to celebrate Affordable Housing Month this May. Affordable Housing is one of the largest issues impacting communities in AD-18 and the entire state of California - far too many struggling to find fairly priced housing or keep up with rising costs. We have a crucial responsibility to shape our communities so that all can live, work and play in the East Bay.
This month, I celebrate the accomplishments of community organizers, nonprofits, and others that have taken up the mantle to advocate every day for affordable housing. They have worked tirelessly to expand the supply of housing and help many find and remain housed. We should also take time to reflect on how we can continue to transform the Bay Area into a region where we can all afford to live and work.
That is why I have authored AB 846 to protect renters using the Low Income Housing Tax Credit (LIHTC) program from rent increases that exceed the growth in median gross income growth in the area. Using these caps, we can ensure that our community is shielded from unwarranted spikes in the cost of affordable housing. Additionally, I have authored AB 1661 Accessory Dwelling Unit (ADU) Meter Streamlining, to allow accessory residential units to use pre-existing or upgraded electricity and gas utility meters. This exempts property owners from requirements to install individual meters on accessory dwelling units, lowering costs and increasing flexibility.
I am proud to have co-authored AB12 which will lower the upfront cost of renting, a major barrier for many would-be renters, by prohibiting home security deposits from exceeding one month's rent. And currently moving through the Senate, SB 4 would allow higher education and religious institutions to develop residential properties on their own grounds more efficiently, allowing for cheaper development costs and more units entering the market. The rising cost of housing is a growing barrier to higher education, making increases in student housing vital to providing equal opportunities and lowering the overall competition for housing.
I'm extremely proud of the work being done across the Bay Area to build stronger, more inclusive communities. This May boasts many events honoring Affordable Housing Month, including community town halls, affordable housing groundbreakings, family events, and much more. I hope you take advantage of this opportunity to celebrate the work of our community thus far and reflect on what more we can do to ensure affordable housing in AD-18.
Yours in Service,

Mia Bonta
Assemblymember, 18th District
In this newsletter, you'll find the following information:
Assemblymember Mia Bonta & staff are committed to keeping AD-18 residents fully engaged and informed.
Please send this newsletter to a friend and subscribe!
Stay connected with our office, follow us on social media:
Twitter

 Instagram

 and Facebook

 or Email Me, (510)286-1670
---
Section 1: State of California Updates
Section 1A: California Climate Action

California has taken another step towards its climate goals by launching a new website, climateaction.ca.gov, during Earth Week. The website serves as a platform to connect Californians with various climate action resources, including zero-emission vehicle incentives, home energy upgrade programs, and water-saving tips.
The initiative aims to empower individuals to take action toward reducing their carbon footprint and combatting the effects of climate change. Through the website, Californians can access a wealth of information and tools to make sustainable choices in their daily lives.
Section 1B: AB 1644 Food as Medicine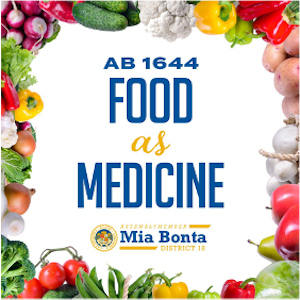 Assemblymember Mia Bonta of District 18 has proposed AB 1644, titled: Medi-Cal: medically supportive food and nutrition services, which aims to establish a program to provide medically tailored, plant-based meals to low-income Californians with certain chronic health conditions. The bill recognizes the role of nutrition in managing chronic conditions and could improve health outcomes and reduce healthcare costs.
The passage of AB 1644 would raise awareness about the importance of nutrition in managing chronic diseases and support low-income Californians in accessing medically tailored meals. 
For more information on this bill, please visit
https://leginfo.legislature.ca.gov
You may also find this livestream for an in-depth discussion.
---
Section 2: Affordable Housing Resources and Events
Section 2A: Affordable Housing Month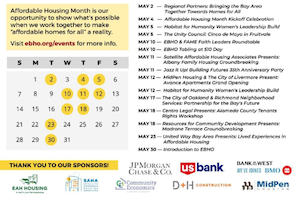 Participate in Affordable Housing Month with the East Bay Housing Organizations, starting May 2nd. Enjoy 15 events throughout the month of May, including community celebrations, tenants rights workshops, affordable housing development groundbreakings, and panel discussions.
Organizations holding events include Habitat for Humanity, The LA Times, The Unity Council, SAHA, Richmond Neighborhood Housing Services, the City of Oakland and Centro Legal de La Raza.
To see the full Affordable Housing Month Calendar, click here.
Section 2B: Jazz it Up with Building Futures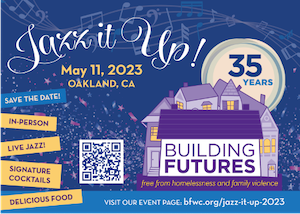 East Bay housing non-profit Building Futures is hosting Jazz it Up at Nido's Backyard Restaurant. Join more than 150 community leaders and supporters in celebrating 35 years of Building Futures work assisting survivors of domestic violence and combatting housing shortages. The event features live music from vocalist Daria Nile and Friends including Grammy award-winning trombonist Mara Fox.
When: May 11, 2023, 5 p.m. 8:00 p.m.
Where: Nido's Backyard, Outdoor Restaurant. 104 Oak Street, Oakland, CA
Section 2C: Housing Counseling Services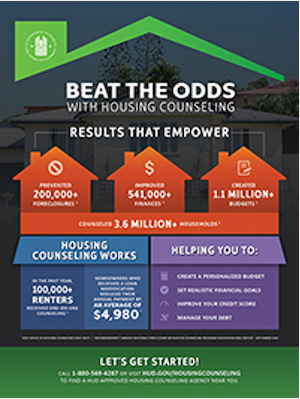 HUD's Office of Housing Counseling provides free services to help families obtain and maintain homes. The agency offers custom expert advice in both individualized and classroom settings including information on programs for first-time homebuyers, guides for homeowners and renters, disaster recovery, and reverse mortgages.
The nationwide network of HUD-participating housing counseling agencies has been helping consumers across America for more than 50 years by providing the answers they need to make informed housing decisions.
Use the search tool here to find a HUD-participating housing counseling agency near you.
Section 2D: Find Shelter and Resources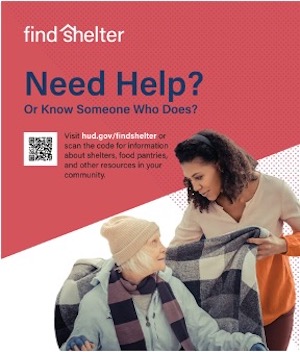 HUD's Find Shelter Service is offering assistance in combating housing scarcity and food insecurity, as well as finding clothing providers and health clinics.
Work with HUD partners to build a long-term plan to find permanent housing and connect with resources. Click here to find care providers in your area.
Section 2E: City of Oakland and Richmond Neighbor Housing Services Partnership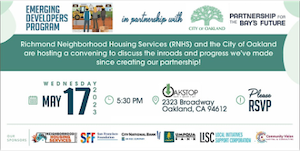 Learn about the East Bay's progress towards increasing housing supply with the City of Oakland and Richmond Neighborhood Housing Services (RNHS) as a part of Partnership for the Bay's Future.
Discuss barriers of entry for BIPOC developers in the housing industry, including how to leverage resources and capital, and coming policy changes to increase diversity and accessibility in Oakland's affordable housing developer community.
Attendees must RSVP for free by clicking here.
Section 2G: Status of Eviction Moratoria in California and Alameda County – May 2023 Update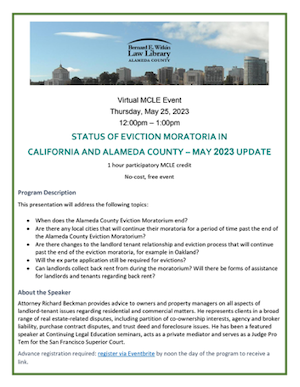 Check out the Alameda Council Law Library for a free virtual update on the end to Alameda County's eviction moratorium and the rights of tenants and landlords. Attorney Richard Beckman will be hosting the event, discussing East Bay cities' moratoria, changes to the eviction process, collection of back rent, and potential forms of tenant and owner assistance
Where: Register Online here.
---
Section 4: AD–18 Community Engagement
Section 4A: AC Transit Realign Survey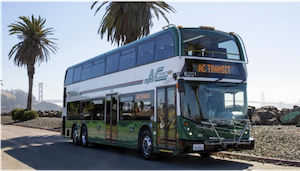 Take part in the AC Transit Realign Project by evaluating the AC Transit Service and imputing suggestions for new equity-based networks. AC Transit is currently assessing its services based on changing ridership data, creating the opportunity for community feedback to be heard.
Click here to complete the survey.
Section 4B: Oakland Small Business Week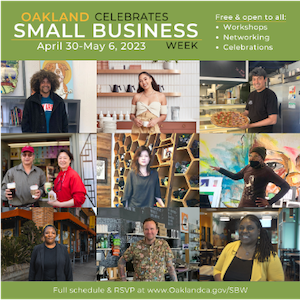 From April 30th to May 6th the city of Oakland is celebrating Small Business Week. The week features workshops and resources fairs for entrepreneurs and small business owners, and education on financial strategy and commercial lease negotiations. Select workshops are offered in Spanish, Cantonese and Vietnamese.
Click here to view the entire week's schedule.